Our guest author today is Jana Williams. Jana is currently an intern at SEAPC's Oakmont offices, and spent eight months living in Cambodia in 2014, assessing English skills in each of the New Hope for Orphans children's homes.
"Play duck, duck, goose?" The soft brown eyes of a child look eagerly at me waiting for my reply. Then for the 100th time I smiled, agreed to play, and sat criss-cross applesauce on the floor. It always amazes me how easy it is to bring so much joy to children who come from heartbreaking and horrendous backgrounds. The children who live in the New Hope for Orphans children's homes previously lived in poverty, had parents with HIV, parents who abused them, parents who abandoned them, or parents who passed away. But now these children live in a safe and loving home. They are the happiest, most generous, and most playful children I have ever met. At all 13 of the children's homes I stayed in, the kids captured my heart and made me part of their family.
The family these children are a part of extends far beyond each home and beyond the rice fields of Cambodia. They have been adopted by a God who knows them to the depths of their soul and loves them more than they could even imagine. In joining His family they have become part of the community of Jesus followers that extends over the entire Earth. One of the main ways they are able to experience God's love flowing in this community is through their connection with their sponsor. At every home I stayed at, many of the children were eager to tell me about their specific sponsor and some even showed me a treasured picture. New Hope for Orphans is one of the local ministries that SEAPC Raising Kids partners with to provide sponsorships for kids. The connection between sponsor and child, however, is far greater than just a monthly check. Throughout the year, sponsors receive updates about their child that include things such as pictures and letters.
The most touching aspect of the bond between sponsor and child that I witnessed was prayer. The children pray for their sponsors every night and consider them a close part of their family. They want to know what is happening in the sponsor's life just as much as the sponsor wants to know what is happening in theirs. The children lift to God specific and powerful prayer requests on behalf of their sponsors. They also praise God in gratitude for His provision. Prayer goes both ways because even more important than the sponsor's financial contribution is their willingness to pray for their child. These prayers advocate for both the physical and spiritual needs of the child. The children of the New Hope for Orphans Children's Homes are being raised up with an awareness of God's power to bring people together and change lives.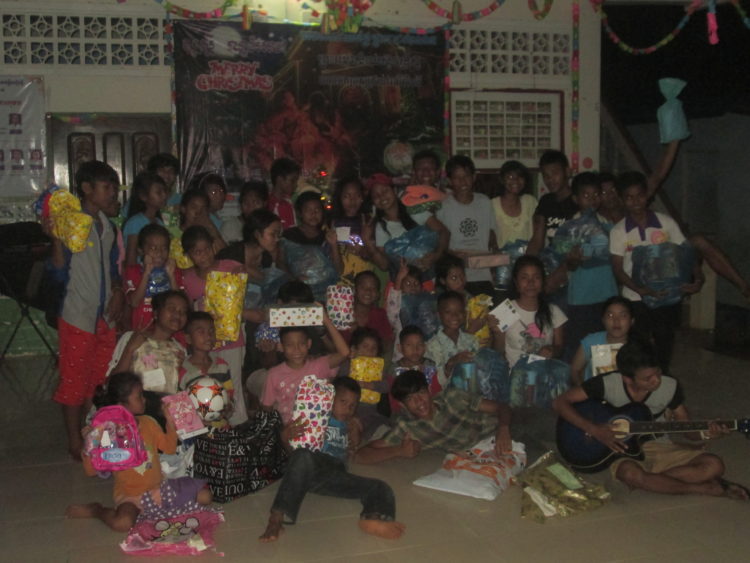 My eight-month journey in Cambodia gave me the opportunity to spend the Christmas of 2014 at the Pursat 2 children's home. A few days before Christmas, two New Hope for Orphans staff arrived with a mound of packages and at least 12 bicycles. The kids were beyond excited but like other kids around the world would have to wait to open their gifts. It was evening on the day after Christmas when the house parents finally brought out all the packages. They gave each kid his or her specific gift that had been either sent by or purchased by their sponsor. The atmosphere was electric with excitement. The opening of Christmas gifts in a household with a few kids is usually pretty exciting so you can imagine how magnified that experience was with 35+ kids. One teenage boy received a blue guitar from his sponsor and it brought me to tears to see him absolutely beaming. He generously shared the guitar anyone who wanted play it over the next couple of weeks and he started practicing worship songs to play at the evening worship services. The gift of that guitar was so meaningful and so special to him. He knew in that moment how much he was loved.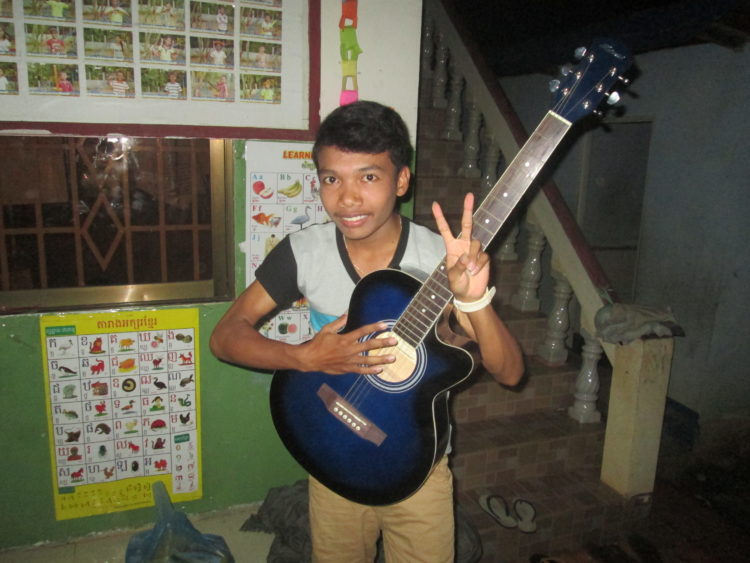 Another thrilling event that happened at many of the homes I stayed at was a birthday party. A child's birthday is an opportunity for a sponsor to again provide something special. Even a small amount of funds or a small gift can go a long way in creating a treasured memory for a child. The main attraction at these birthday parties is usually the cake. (I was surprised to find that in Cambodia, while the frosting is white, the cake itself is usually green.) There is nothing quite like seeing a beautiful, large cake placed before a wide-eyed child. While the child is celebrated as an individual, everyone is sure to be included in the party. After being sung the birthday song, the birthday kid's first responsibility is to distribute a small piece of cake to every kid living at that home. All the kids also get to wear a party hat and join in a special meal, song, and dance. This is just another way that an orphan comes to see himself or herself as valuable and wanted. They gain an even greater sense of family and belonging. A child can go from being abandoned to having a family that cares for them in Cambodia, a sponsor who supports them from across an ocean and a relationship with a God who will love them all their life. They have become rich not by this world's standards but in all the things that truly matter.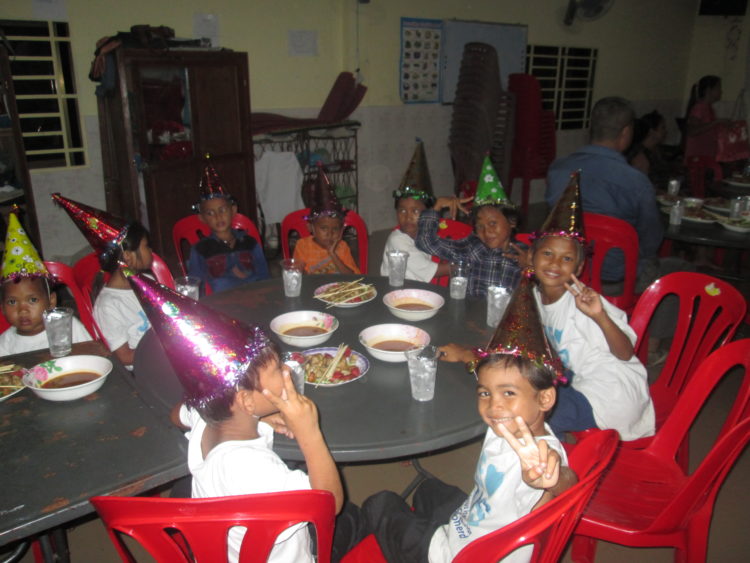 Through these experiences I learned that love is not limited by genetics, borders, or distance. In God's family we are all connected, we all matter, and we all can become part of a Kingdom movement that is changing the world. I am so excited for the day that I will be able to sponsor a child through SEAPC because I have seen firsthand how powerfully God works through that relationship.
To learn more about becoming an SEAPC Raising Kids child sponsor, please click here.
SEAPC is dedicated to changing lives through prayer. If your heart is moved and you would like to partner with us, you can donate here.