As part of a series of blog posts about child sponsors from around the world, today's guest author is Abigail M. She is 11 years old and very passionate about the arts and acting, and loves to travel around the US with her family. Abigail lives in Grove City, PA with her parents.
I really like going to work with my dad. One day, a few years ago, I went with him to Pittsburgh. After several meetings, I asked my dad where we were going next because I was starting to get tired and a little bit bored. He told me that we were going to an amazing bakery where we going to meet someone who knew Van.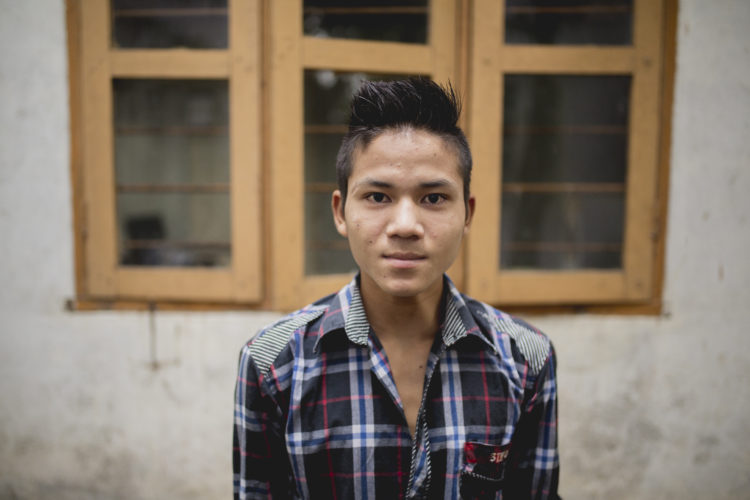 Van is a young man that our family has been sponsoring for the last three years through SEAPC. I see his picture on our refrigerator every day. He just turned 18, so he was 15 or 16 when we started sponsoring him.
My dad said that we would be meeting Matt Geppert, someone who worked for SEAPC and helped kids like Van. As soon as he told me, my heart leapt and my mind began to race. My thoughts were going a mile a minute! Imagine! Me, going to meet someone who knew Van! A thousand questions rushed into my mind. I grabbed my notebook and I started to write them down. As a 9-year-old, I was so excited to learn more about the young man whose picture I saw every time I passed our refrigerator.
When we got to the bakery and opened the door, the smell of fresh bread, cookies, and other amazing pastries greeted us. It took me a long time to make up my mind, partly because of the fact that someone who knew Van was sitting in the back of the bakery! When I had finally ordered, I sat down and immediately took out my notebook like I was conducting an interview.
As soon as we were all sitting down, I looked at Matt and asked, "Do you know Van?" It took Matt a minute to figure out what I was talking about, but then my dad told him that I was asking about our sponsor child. Matt told me that he did know Van and that he would be happy to answer my questions.
The first question that I wanted to ask was if Van was a Christian. Then I wanted to find out what were some of the things that he liked. At first, Matt didn't say much. He just looked at me. I kept asking questions.
"Does Van have a family?"
"Where does he live?"
That's when Matt looked up and told me something that surprised me. He said that my family were some of his heroes. When I asked why, he said it was because we really cared about Van and that I wanted to know about him and his life.
Matt told us that Van is Christian and that he and his friends pray every morning. He enjoys soccer, and he teaches the little kids how to play. He also told me that Van likes to write. That was interesting to me as I also love writing. Van lives in a children's home because he abandoned. I told Matt that I was glad that Van had a home to live in. Even though I was really young, I knew that most orphaned or abandoned children were child soldiers or worse.
A week after I met Matt, I was so surprised to get a package from Van. There was a letter from him and two bracelets made by some of the girls in the SEAPC home. This was so special!
I first started thinking about sponsoring children when I watched a TV show about a family that wanted to help orphans in Central America. They thought about adoption, but the laws in that country made it hard, so they started sponsoring the children instead. This stood out to me because I am an only child and we have prayed about adopting, but haven't been able to. But we can sponsor a child, and in some ways, sponsorship was almost like we were adopting. Now we've made a commitment to Van and I feel like he is a part of our family. My heart has grown for others, and I pray for Van and our other sponsor kids every day. My family and I are so honored and grateful that we get to sponsor children. We are glad to make an impact on Van's life, and in turn, God has made an even bigger impact on our family.
To learn more about becoming an SEAPC Raising Kids child sponsor, please click here.
If you're already a child sponsor and would like to share your own story, please contact us at info@seapc.org.