Unity in the Community
When the Christian community in Pittsburgh, Pennsylvania came together this past Black Friday, they put a new spin on typical Black Friday events. While many people swarmed the retail stores trying to land the "best deals", over 3,000 people gathered in the David L. Lawrence Convention Center to take part in the "Amen to Action" initiative. Amen to Action came about when a group of Pittsburgh church leaders and laymen and women contemplated a milestone year for the city of Pittsburgh. Not only is 2016-2017 the 200th birthday of the City of Pittsburgh, but it is the 500th anniversary of the Protestant Reformation, as well as the 50th anniversary of the founding of the Catholic Charismatic Renewal Movement in Pittsburgh.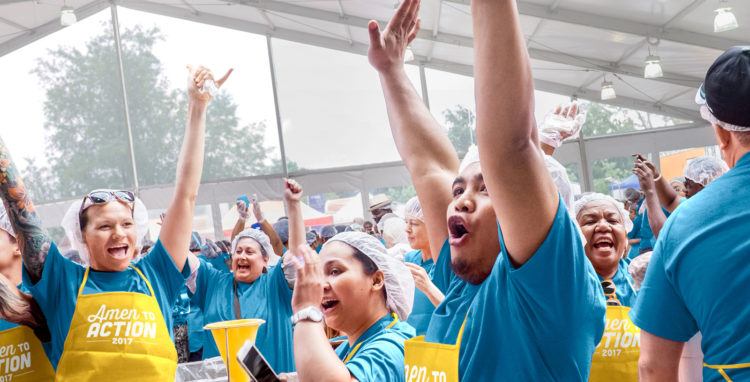 Courtesy of Amen to Action
In a desire to create a platform of Christian unity, church leaders coordinated a very unique Black Friday event. The focus being within the city of Pittsburgh to amass spiritual capital that exceeds the material capital that Black Friday sales, coal in the hills, and steel in the mills typically bring in, and pave the way for Pittsburgh to become a spiritual power plant for the rest of the world. Things started with an inspiring prayer and praise celebration which included participants from the Protestant, Catholic, and Jewish communities. Church buses brought people from all over the Pittsburgh area. Testimonies of how Jesus made a way in impossible circumstances were enhanced by anointed choirs and soloists.
Following the service everybody moved to a staging area that was set up for mass production of pre-packaged meals for those in need. It was a party atmosphere. A DJ provided tunes that some people danced to as they skillfully multi-tasked to keep up with their part of the assembly line. People scurried about as they balanced boxes, and each time a box was filled there was a lot of joyful yelling. But instead of the boxes being filled with games, toys, and electrical gadgets, they were filled with pre-packaged meals for those in need.
Despite the large numbers of volunteers, people worked together like a well-oiled machine, resulting in over a million (1,014,336) meals packaged! How awesome it was to take part in something that furthers the foundations of Christianity! We came together to honor our Lord as we reached out to those in need, and enjoyed each other's fellowship all at the same time.
To learn more about where and how SEAPC serves, click here.
SEAPC is dedicated to changing lives through prayer. If your heart is moved and you would like to partner with us, you can donate here.