Just Waiting for You to Pray
We were just pulling out of Tehuantepec, Mexico to head back to Oaxaca City after 4 days of healthcare clinics. My head was in a rush after having had a quick breakfast and then running around to finish all the administrative duties of a team leader: checking out, paying the bill, making sure the rooms were okay per hotel standards, saying the formal goodbyes to our hosts, etc. etc. I sat down and took a breath and remembered, "Oh yeah. We should pray." So I stood up and asked everyone to bow their heads to pray with me for safe travels.
"Lord, today we thank you for the time of service we've had here. Thank you for those who were healed both in body and in spirit this week. Please give us safe travels back to Oaxaca … um … surround us with angels and … um … give our driver strong arms and … yeah … quick eyes. Amen."
I quickly sat down completely embarrassed by my verbal stumbles and incompetent attempt at prayer. "Strong arms and quick eyes? Honestly, Greta…"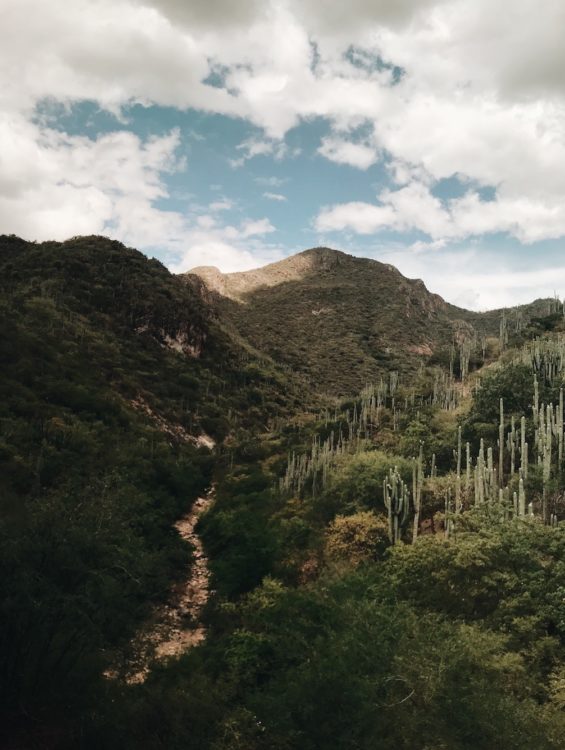 We had a five-hour drive ahead of us along the Sierra Madre de Oaxaca mountain range filled with switchbacks and hairpin turns. It was a bit of a wild ride, and our driver took these curves at faster-than-probably-advisable-speeds.
As we quickly wound our way up and down, I began to grow very hot. I wondered if I was getting a fever.
"Hey!" I thought, "Maybe that's why my prayer was so ridiculous!"
We stopped for a quick break to enjoy some coconuts, but as we loaded back into the van we were missing Isaias Acosta and Hector Zetino. I spotted them talking to the woman who had sold us the coconuts. I walked over to retrieve them, and as I opened my mouth to tell them to speed it up, I immediately stopped because I realized that they were leading her to the Lord. She was actually praying to accept Jesus that very moment!  Praise God!
Joyously we continued on our trip up and down and back and forth along the mountains. Then, abruptly, the AC stopped altogether.
The driver informed us that he thought maybe it was the compressor, but not to worry because he had a "second AC system". So he switched it over and it was working, but, again, not as well as it should have been working.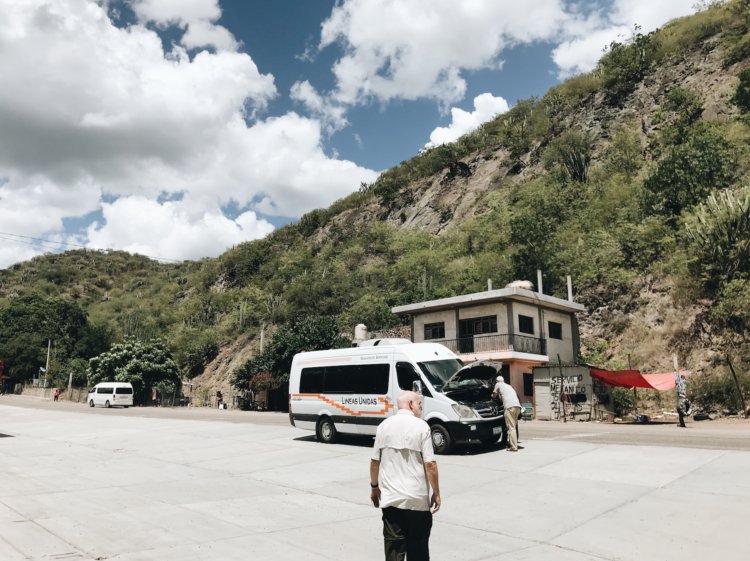 About an hour later, our driver suddenly began to tap on the brakes far more than usual. My radar went off and I sat up a little straighter. The driver began speaking in Spanish and Hector suddenly began to sit up straighter in his seat too. He leaned over and whispered to me, "He says it's suddenly very hard to turn the wheel."
"Fantastic," I thought. "Okay God, what are you going to do here in these switchbacks on the side of this mountain? This is going to be interesting. Please, just let us get to the bottom without an accident."
We slowly weaved our way down the mountain and came to a stop in a tiny little speck of a town in the middle of absolutely nowhere in Mexico. I laid down on the dusty ground and found tiny bits of shredded rubber dangling out of the bottom of the engine—the serpentine belt was broken.
I asked what exactly a serpentine belt does and I was told it does a lot of things including run the compressor for the AC and run the power steering. It was at that moment I felt a stirring in me. "Strong arms," I heard in my heart.
Strong arms. Well, he certainly needed those to get us down the mountain around those curves.
We asked around for a mechanics and was told there was one just about 100 yards back up the mountain. So we piled back in and our driver strained to get the wheel around and get us back up the 100 yards. We pulled off at a little shack made of wood and corrugated metal sheets. A variety of mechanical parts and tools were strewn about the dirt surrounding small projects in various states of repair. They took a look once again at the engine and the mechanic, unsurprisingly, informed us that he did not have the belt we needed. We apparently needed a specific belt for our specific make and model of van.
Our driver got on the phone and asked his boss what to do. Our only option was to wait two hours (which was really more like four hours) for the owner of the van to buy the belt and ship it to us on one of the bus lines that run through this area today. It was looking like a four to six-hour delay between waiting for the part and then the repair. So our driver spotted a gas station another 100 yards up ahead where there might be food and AC for us to wait in.
Our driver began to pull onto the road and suddenly began frantically blaring his horn! "What now?" I thought. I stood up trying to see what was happening, and I watched as we began to pull off on the shoulder behind another vehicle. Our driver jumped out and ran up to the other vehicle. By the time I got out of the van and up to the other vehicle, our driver was all smiles. When I finally got Hector to translate, I found out that this van just happened to be the exact same model as ours. The other driver just happened to have the exact model of serpentine belt we needed. And he gave it to us for free.God is amazing!
Then I felt someone punching me in the arm saying my name. "Greta! Greta! Quick eyes! Quick eyes!"
"Huh?," I said.
"Your prayer this morning! Strong arms and quick eyes! He needed quick eyes to spot that van flying by us!"
I began to laugh with joy. There I was doubled-over with laughter in the middle of a tiny town in the back-country of Mexico utterly astounded at the way God works through us. And when I turned around to survey where we had landed I found a dilapidated little concrete house behind us. And strung across the top of the house was a HUGE banner that said
"¡Jesucristo es el Rey de Reyes!"  Which means: "Jesus Christ is the King of Kings."
And all I could say was, "Amen!"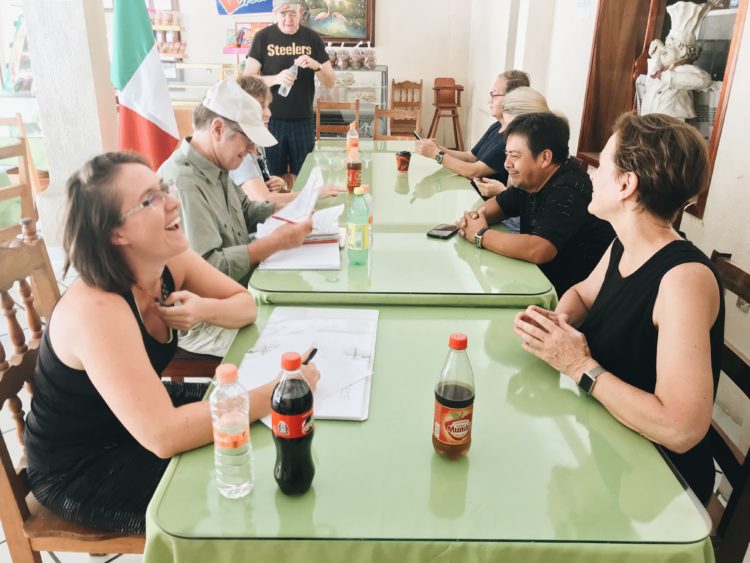 As it turns out, this dilapidated home was also a restaurant. We enjoyed a wonderful lunch in the cool shade of an outdoor patio served by a Christian family.
The van was fixed and as we were waiting for our driver to eat I watched two weary strangers walkup to our group. My dear friend Isaias took them and sat down with them and our driver and bought them all lunch. They were ragged-looking. Covered in dust. I assumed they had been walking for miles if not days. As they finished eating, I heard the rest of the group begin to make rumbles that it was time to go, but I knew in my spirit we needed to wait.
It didn't take long. A few minutes later I watched as Isaias, our driver, and these two strangers bowed their heads. And for the second time that day I heard the sinner's prayer being prayed. Yes, three more came to Christ that day.
God is always working and always moving. That day was a tangible reminder to me that God is always with me and that no part of my life is too small for Him to be a part of. God is in the details. If you look at the world around you, you can find incredible examples of how intricately He designed His creation. From the beautifully intricate design of a leaf to the astoundingly complicated design of the human body, God is in the details. And He wants to be intimately involved in the details of your life.
Is He?
Do you offer that to Him? Do you tell Him about your day, your thoughts, your feelings? Do you offer Him your plans for Him to bless, tweak, or change altogether? Do you?
Is He?
I'm not patting myself on the back here. There was no poetic elegance in my prayer. No words of wisdom. I had been running around trying to do all the things that needed to be done, and so I certainly wasn't "tuned in" to the Holy Spirit either that morning and praying the words He was giving me. I was just praying because I knew we should pray and the Holy Spirit still spoke through me.
Even when we aren't, He is. Even when we don't, He does.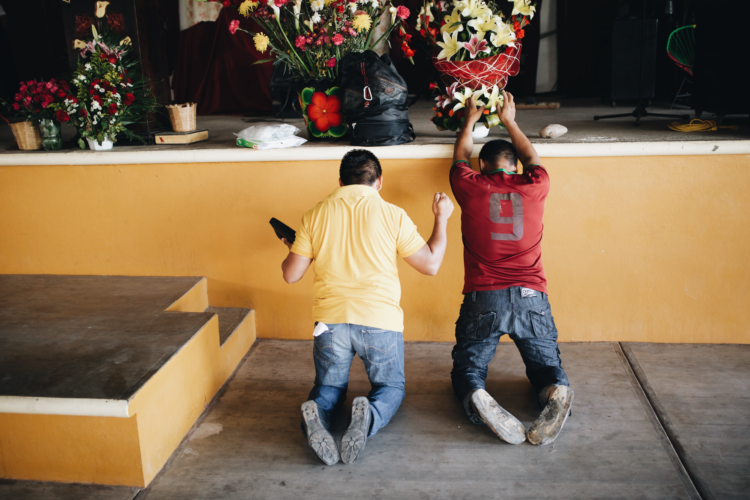 He does it all to save the lost. Had we not broken down that day I don't know if those four individuals would have come to know the Lord. Maybe they would have, or maybe not.
Regardless, God had chosen that day as the day He would reveal Himself to them. And God still had time to work on my heart that day, too, and I can guess that he worked on many hearts on our team that day.
We serve an incredible God. A God who is even when we aren't. It doesn't matter how well you pray, how long you've walked with Him, or how "spiritual" you are. He's there. He's always there.
He's always there just waiting for you pray.