Playground for Kampong Cham
We firmly believe that PLAY is important for kids and we're on a mission to provide a state of the art playground at each home for the children to enjoy all year long.
We all know the famous Scripture from Acts 20:35: "It is more blessed to give than to receive." But how about this one from Proverbs 18:16: "A gift opens the way and ushers the giver into the presence of the great." Or 1 Chronicles 29:14: "But who am I and who are my people, that we should be able to give as generously as this? Everything comes from you, and we have given you only what comes from your hand."
So what, exactly, does "Giving Tuesday" even mean? Is it like Black Friday, Cyber Monday, Small Business Saturday? These are days set aside to spend money and find bargains. Nothing wrong with that! Who wouldn't prefer to invest $25 to buy a new Echo Dot than to spend the retail price of $49.99? It's the global way; give something, get something back.
On the surface, all these occasions seem to be the same. Most people are generous, especially at the holidays. Why not throw a few bucks to a favorite charity once a year? The giver feels good, the charity benefits. Both of these things are true. But there is a deeper truth that is embodied in Giving Tuesday, one that has relevance to all people, every day.
Giving Tuesday is an example of what our lives should be on a daily basis. Our best role model in giving is God. Big shoes to fill to be sure. He gave His one and only Son, that whoever believes in Him will have eternal life. It is His generous, on-going donation to a bankrupt humanity.
As we are made in God's image, we give sacrificially. Coming to earth as fully God and fully man could not have been more of a sacrifice for Jesus. Heaven or a cold manger with prickly straw? No comparison. Yet He did it. Lifted to heaven or death on a cross? No contest. Yet He did it. And would have done it even if only one of his creation required saving. (Matthew 26:7)
Our giving should be for the proper motives. We are not to do so to get the praise of our peers, but to please God, the fountain of all blessings. It's a turn-off to hear others bragging about their accomplishments, their money, their piety and generosity. Imagine what God goes through, having given so much, while we trumpet our supposed good deeds to the world. (Matthew 6:1)
Not everyone can give the same amount, and we aren't expected to do so. Rather, give in proportion to the blessings you have received. God is liberal with us. We are actually returning what is His to Him. (2 Corinthians 8:12)
Giving is an expectation. Jesus' words were 'when you give,' not 'if you give.' It is an act of worship to Him, as we support the work being done on behalf of the least and the lost of this world. (Matthew 6:2)
Our generosity is to be an occasion of joy for us. With extravagance we give, and with extravagance God returns His love to us. Helping others creates in us a cheerful disposition that spreads into all areas of our lives. (2 Corinthians 9:7)
That feel-good experience doesn't have to be isolated to one day out of 365. And it doesn't require a Bill Gates-style bank account. It simply requires a willing heart—a heart of service, of sacrifice, and of joy.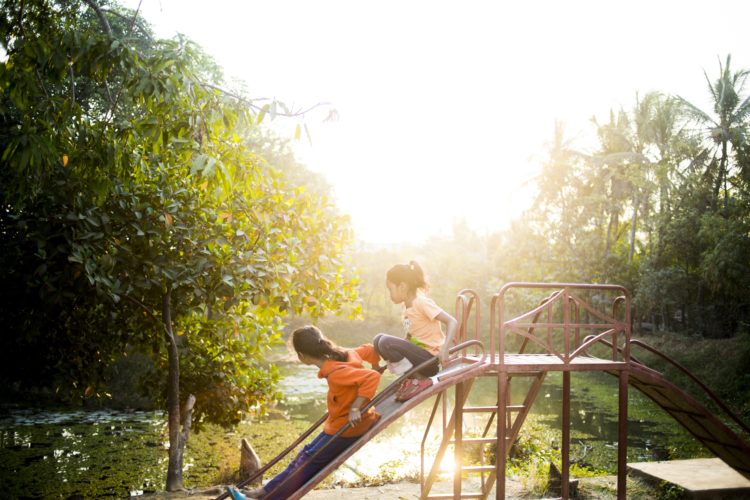 This year SEAPC has a goal to raise $5,000 on Giving Tuesday. It is earmarked for the Kampong Cham Children's Home in Cambodia. The 44 kids living there need a place to play. Donations will be used to prepare the area, purchase playground equipment, and install everything with safety for the children uppermost. Your cheerful giving will make a joyful noise to the Lord as these little ones have fun in a Christian environment.
At SEAPC we appreciate the on-going sacrificial giving of those who sponsor children, support medical missions, provide supplies, and all the myriad ways the family of God is a family of giving—all year. On this Giving Tuesday, we thank you for prayerfully considering a gift. We have all been blessed to be a blessing. God is smiling as this is practiced in a tangible way!
And God is able to bless you abundantly, so that in all things at all times, having all that you need, you will abound in every good work. 2 Corinthians 9:8.