"Faith Without Cement is Dead"
I love this quote. I wish that I had come up with it. That person took many difficult, challenging, and dividing concepts and simplified them into five words. I envision him making weekend trips to rebuild New Orleans after Hurricane Katrina, or building homes for squatters in the ghettos of Guatemala, or perhaps he was the one driving
nails into studs in the basement of your church so that you could have a children's ministry. Or maybe he just really likes to read the children's book The Three Little Pigs.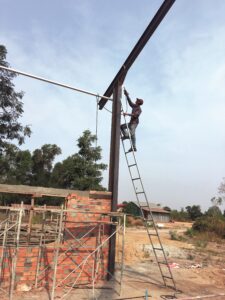 However he came to the statement, it's a statement on the reality of how faith works.
We serve a faithful God, who continues to shower us with blessings and opportunities so long as we live our lives for him. In the middle of these blessings and opportunities are temptations to take our focus off of him and to live on our own strengths and resources and abilities. I can tell you from first-hand experience that I get tired, I feel broken, and I end up pretty confused when I rely on myself. I can say that for my personal life, my time spent with my family, and also in ministry. Many times, even in ministry, I've lost focus of the King of Kings and the Lord of Lords, and I've replaced his power, his blessings, and his abundance with my limitations. When I've done that, I've found myself with neither faith nor cement and a lot of frustration and challenge. Thank God for his faithfulness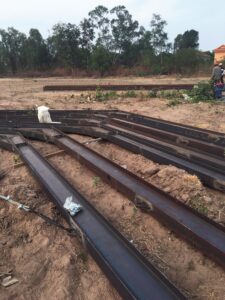 , grace, and strength to overcome through faith.
Today in Cambodia, cement is mixing the foundation of faith with the hope of a new generation, and the first buildings exposing truths to the possibilities in Christ. Right now I need your help. Please help me. If you are an educator I would like to invite you to please come for a two week or one month educational investment trip into the children who BC Arise serves, who are currently enrolled in the 488 public schools that have been opened to us. If you are a generous person, please stand with us financially by committing $100 for the next year and becoming a member of the Team 217 program. If you are a genuine person of prayer, please put this project on your prayer wall and begin to pray for us by name and by location on a daily basis.
I have faith in God to accomplish the BC Arise program. I believe that many of you have the same faith, and together we become the cement of God who places concrete truths into desperate people. Thank you for your love and support.