Moses' Story
There's no doubt that God watches over each of us and has a plan for our lives. He orchestrates events and places people in our path for specific times and purposes. Sometimes we can't see how God is working in our lives, and other times the hand of God is so evidently upon us that it leaves us in awe of His sovereignty and kindness.
In early June of 2012, two women approached the Charity Children's Home entrance in Yangon, Myanmar. Along with them was a young boy, age unknown, born with Down syndrome. These two women were looking for someone to care for the boy because they couldn't meet his needs and give him the medical care he required.
The staff at the children's home saw the desperation in the women, but they didn't feel confident that they could care for the boy either. The kind of medical care he needed was something they weren't familiar with, and although there is a school for children with Down syndrome, it was far away and relatively expensive.
The staff turned the women away that day.
Later that same evening, the staff heard someone crying near the gate entrance of the home. They found the boy that had been with the women just hours before, standing alone crying. The staff knew nothing about him. They didn't know his name, age, or where he was born. They welcomed him in, knowing that God had brought him to the children's home for a reason. They lovingly and appropriately named him Moses. That day was June 2, 2012.
Since Moses couldn't attend the regular school and the school for children with Down syndrome was too expensive, the Charity Children's Home staff have been faithful to work with him and teach him. They've brought in specially-trained tutors to work with him on his speech and have taught him basic skills.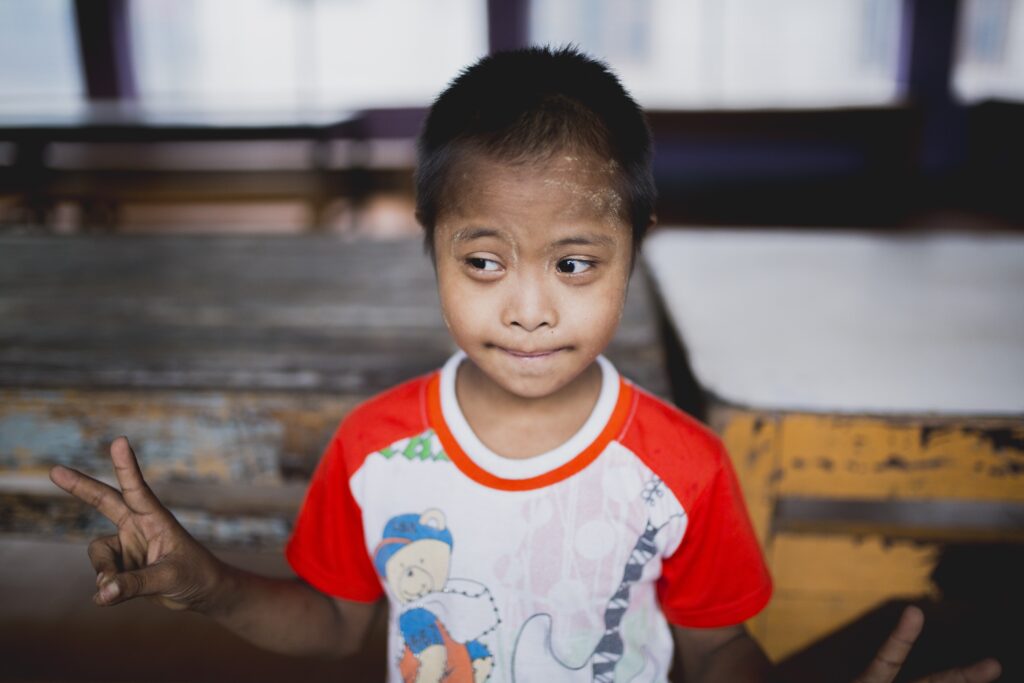 He can now speak, and he understands the Burmese language as well. He has learned how to take care of himself and has become quite the helper around the home. He has accepted Jesus into this heart, and he loves to worship and sing songs.
While Moses' life has been anything but easy, the hand of God has been so evident in his life. God knew that the women taking care of Moses couldn't provide what he needed, so He led them to Charity Children's Home. And while his story is heartbreaking, it's also full of so much hope.
Through the work of the staff at the children's home, the prayers from his sponsors of almost ten years, and the sovereign plan of God, Moses' life is evidence that God is faithful. In the same way that we see God working through the life of Moses in the Bible, from the time his mother placed him in the basket until the day he died, God put people in his life and orchestrated events for a specific purpose and used each one of them to lead Moses to Himself.
When we allow God to work through us, whether through our time, money, or prayers, we can't fully grasp all the ways He will work.
When you sponsor an orphaned, abandoned, or at-risk child, it's far more than sending $50 a month. It's allowing God to use you, the finances He's blessed you with, and your prayers to change a child's life. To bring them hope and a brighter future. Your sponsorship can forever change the trajectory of a child's life in ways that only God can see. Your generous giving is such a blessing.
Get Involved
Pray
Pray for the orphaned, abandoned, and at-risk children that Raising Kids serves. Pray for their health, safety, education, and that they would come to know Jesus.
Give
Consider sponsoring a child in need for $50 a month. Your sponsorship supports the monthly food, education, medical, and clothing needs for your child.
Go
Email erin@seapc.org to host a Bridging Homes event, to get connected with a children's home!