"Three times I was beaten with rods; once I was stoned; three times I was shipwrecked; a night and a day I have been in the deep; in journeys often, in perils of waters, in perils of robbers, in perils of my own countrymen, in perils of the gentiles, in perils in the city, in perils in the wilderness, in perils in the sea, in perils among false brethren; in weariness and toil, in sleeplessness often, in hunger and thirst, in fastings often, in cold and nakedness —besides the other things, what comes upon me daily: my deep concern for all the churches." — 2 Corinthians 11:25-28
Every year SEAPC hosts the "Friends Around the Table" gathering. This gathering is to celebrate God, worship His works on the earth today, maintain our unity in Christ, and to hear from God for His direction in our next steps.
These "Friends" are today's heroes of the church, although they will certainly never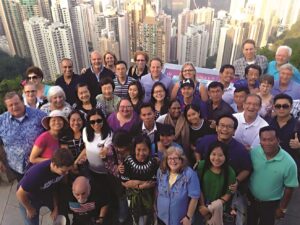 accept that title. They are heroes and they are my friends, and I am so proud to know them and to serve them. They have faced some of Paul's list above and have added to it in their own experience. They have paid the cost and have testified to its reward in this lifetime.
These friends are the real thing, living and working among the nations today. They call themselves the UnMission — the unlikely, bringing the unknown, to the unreached. They do not want your praise or honor, nor do they want you to lift them up and make them famous. They frighten the nations because they are anxious for nothing. Though they have faced death, they remain full of joy! And God has used them to establish His church in the nations today and to change nations for His glory. They have learned to pray a very powerful prayer, one that each of us should know and share in daily: