When Pastor Mark first came to our country I started to become familiar with the term "prayer walking." It was the first time we went together to prayer walk in our country's famous Shwedagon Pagoda, one of the biggest pagodas in the world. To be honest, I never knew that someone could go to other religious places and perform prayer walks like that. Since then, I have continuously seen and witnessed that whenever people from SEAPC — my dear brothers in Christ, Matt and Tony, Pastor Cheng, and sister Tina and team — come to Myanmar, they have always faithfully practiced this "prayer walking" thing, and it really worked. For the rest of my life, I will never forget the day when brother Tony led us, the Charity Children Home's staff, to prayer walk through Naypyidaw.
We started our journey from Yangon in the very early morning and arrived in Naypyidaw around 11:30 a.m. When we got to Naypyidaw we tried to enter the parliament house compound for prayer walking, but according to the gatekeepers we were not allowed to enter because of a meeting that was going on.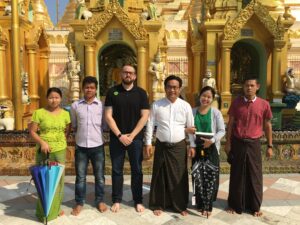 Instead, we pulled over our van beside the road near the entrance gate and prayed quietly inside the van. We prayed for our present government and for the government to come. We especially prayed for the peace and progress of the country, and for Christian men and women to come into high positions in the government. Then we prayed in different important spots like in front of the offices of the Ministry of Foreign Affairs and the Investment and Commercial Bank, and so on.
The result of our prayer is now being revealed. Because of people's desire to see the "great lady" as their leader, Aung San Suu Kyi's party, the National League for Democracy, has defeated the old government party. Another answer we got is that the old government has Prayer Walking Worked peacefully handed over control to the elected party. Moreover, and amazingly, Aung San Suu Kyi has chosen to place many Christians in very high and important positions in her newly formed government. One of these positions is the vice president of Myanmar, and the man she appointed is from a very strong Christian background. His wife is also not only a faithful Christian but a Bible school teacher who once taught my wife, and his father-in-law is the founder of United Pentecostal Church of Myanmar.
Just recently, we sent a message to the vice president saying we wanted to visit and pray for him. He replied with no delay that he and his family would be very glad to receive our prayer in the presidential house, where he and his family had just moved in. As we entered into the presidential house, we were warmly welcomed by the family.
What an amazing experience to pray, praise, and shout "Hallelujah!" in the presidential house of Myanmar. What an open door for the Gospel of Jesus Christ in Myanmar. In the past, we had not even been allowed to enter into the parliament house compound, but now we were welcomed and received by the vice president of Myanmar in the presidential house. In the past, we were not allowed to pray with loud voices even outside of the parliament house, and now we have a chance not only to pray with loud voices but also to shout "Hallelujah!" I certainly know and believe that God has heard the humble prayer we made in the journey of prayer walking. Thank you Lord.
~ Thang Chung Nung