Hi, my name is Dana. I took my first trip to Southeast Asia in September of 2012 having no idea what I was in for or just how much it would change me. We visited Singapore, Laos, and Cambodia, and it was in Cambodia that I first got to meet children at New Hope Children's Home.
One of my most vivid memories was visiting the temporary home in Siem Reap (the large facility was almost complete but not finished when we got there). We pulled up and dozens of children rushed up to hug Pastor Sinai and many of the volunteers from our team. But I remember a very shy little girl in a bright orange outfit with very short hair who stood somewhat farther away just watching, what looked like frightfully.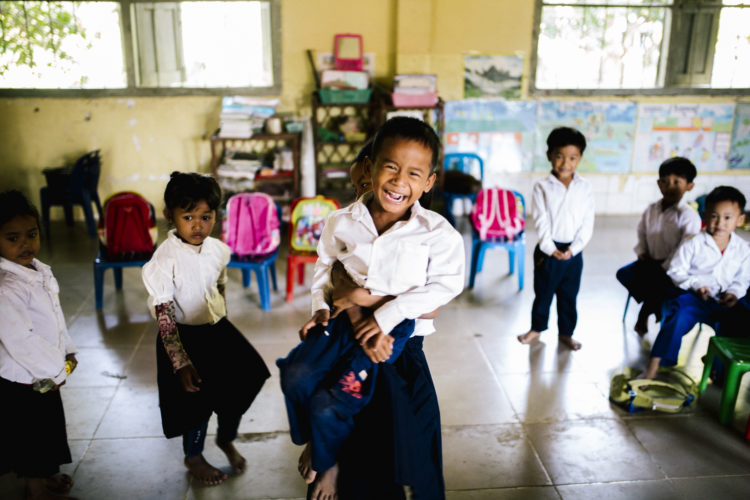 With each home we visited and each encounter laughing, smiling, and trying to communicate with these beautiful Khmer people, my heart became forever engrafted. Upon my return home, I felt my heart being pulled to sign up to sponsor a child. So I did, and a couple days later I got my sponsorship packet in the mail. As I opened it and read through the name, the child's favorite color and school subject and when they arrived at the home, along with other information from their bio, my eyes fixated on the picture. I thought, "I think I know this little girl."
I started flipping through pictures from my trip and sure enough, she was that exact little girl in the orange outfit at the orphanage that day. I noticed on her paperwork that she had only arrived a week before we had visited, which explained why she was so shy. I got the opportunity to visit Cambodia again the next year and this time when I got out of the van Dim ran to me and hardly left my side the whole day I was there.
My heart gets overwhelmed just thinking about this precious little girl who was so much more outgoing and joyful, a testament to the love of Christ and the love of the houseparents who watch over her.
Soon after my second trip, I learned that her sister was also coming to live in the orphanage and that she was in need of a sponsor. I emailed SEAPC to let them know that if possible I would love to sponsor her as well. I now have four sponsor children and I thank God for the opportunity to partner with SEAPC to help these children all over Cambodia and watch as they rise up and take this nation for Christ.
To learn more about becoming an SEAPC Raising Kids child sponsor, please click here.
If you're already a child sponsor and would like to share your own story, please contact us at info@seapc.org.