Micro Economics
Micro-economic development is the fourth ministry platform of SEAPC. We believe in the importance of the biblical principal of a person finding confidence through the work they do with their own hands. (Galatians 6:4)  This, combined with education, is a key to break the poverty cycle.
Related Projects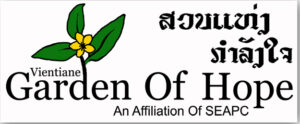 Garden of Hope
Location – Laos
The Garden of Hope is a project initiated by the South East Asia Prayer Center in Vientiane, Laos. It serves to eradicate poverty by bringing hope to the farmers of Laos and prosperity to the communities. The Garden of Hope is a training center where students come for two years. During this time, they are taught farming skills, English, bible, worship, and other skills they can use as pastors back in their local villages. While training, they earn a monthly stipend and are encouraged to save as much of it as they can. At the end of their time, SEAPC matches what they have saved. This allows them to purchase land and start their own farms, instantly providing them with a status of respect in their village. The goal is to equip the students with skills to have a sustainable lifestyle.
South East Asia Products Company
Location – Cambodia
South East Asia Products Company exists to enable Cambodian agriculturalists find a profitable way to market their products. This effort includes training in better agriculture strategies, preservation, packaging and marketing.
Charity Children's Home
Location- Myanmar
Charity Children's Home in Myanmar is first and foremost a project of Raising Kids but also includes a fish farm, producing fish for the children to eat and to use as a tradable good. The home also bottles water from their well and sells it to hotels and local businesses. It has been tested as the one of the purest quality waters in Yangon. Children that have graduated high school will learn the aspect of the entire business, from management to production and distribution. the goal of this is to equip the children with skills that will help provide them a set of skills that will help them their entire adult lives.
How you can pray:
Pray for the students and teachers at the Garden of Hope.
Pray for South East Asia Products Company to bring better economy to Cambodia by keeping food products within country rather than being shipped out at a low cost and brought back in at a higher cost.
Pray for Charity Children's Home to continue to be profitable in their business ventures to bring more blessings to the children living there.