Much is said about Jesus' Great Commission to proclaim the gospel. Good stuff. Mission-minded. Life changing. But there is more. Jesus highlights many signs of belief immediately before being taken up to heaven post-resurrection. He ends with this in Mark 16:18b: "They will lay their hands on the sick, and they will recover." In modern vernacular, the band Mercy Me reprises it: "Won't you be my hands healing?"
This idea of God's healing appears throughout both Old and New Testament Scriptures, culminating in Jesus' healing powers and believers' power to heal through the Holy Spirit. In Matthew 10:8a Jesus sends out the twelve apostles: "Heal the sick."
And in Luke 9:1: "And He called the twelve disciples together and gave them power and authority over all demons and to cure diseases."
There are those who believe supernatural healing and other spiritual events no longer exist in our world. I was one of them. Until God called me to actually, physically, truly, personally be his hands healing. At that point, everything changed.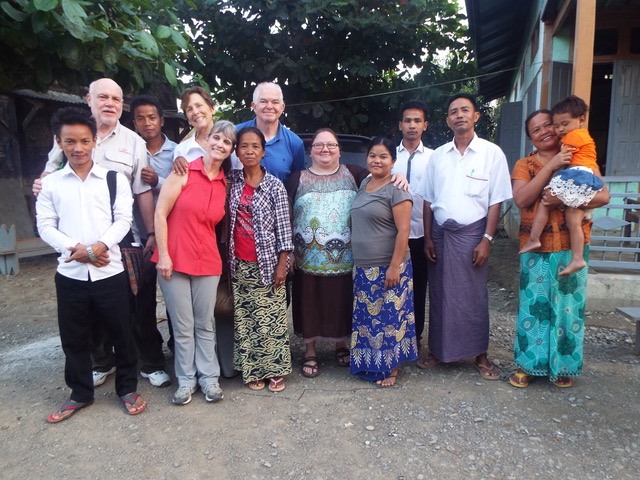 The mission trip to Myanmar meant immersion in a very different culture. But hey, people are people, sickness is sickness, nursing is nursing. Right? Our core medical team consisted of Tim Jones, MD; Jean Jones, Functional Medicine; Harry Mundorff, BSN; and me (BSN). The first day of clinic ended with an exhausted doctor who had worked hard to treat the flow of triaged patients. It was difficult to imagine him keeping up the same pace for two more weeks.
As tepid water trickled over my head in the shower that night, I prayed from my heart. Because although I'm no prayer warrior, I do know a problem when I see one. This problem seemed impossible to solve, unless another physician somehow joined us. But God is the maker of miracles. I dropped it in his able lap and turned off the water.
Almost immediately, a thought came to me. A very clear, fully formed idea— crazy, unthinkable, and bold. I took it to Tim, certain that he would laugh and demur.
"Hey, Tim. You were slammed today. So, um…I prayed and got this crazy thought. What if I see patients with you—at the same table? I can handle the small stuff under your supervision."
Cue my eye roll, nervous laugh, careless shrug. Tim deemed it a spectacular notion. Even if I only cut his workload by a few patients, it would help.
I prayed through a night of poor sleep. What had I gotten into? What if this had been my goofy egomania, not a God-inspired moment? Would I embarrass myself, be totally incompetent, flunk out of doctoring?
The next day we set up for clinic, Harry doing triage at one table, Tim and I each taking patients at another table, Jean ready to pray. An amazing—and by amazing I mean miraculous—thing happened. I could feel the Holy Spirit flowing through me, through my brain, hands, fingers, eyes, ears, nose, and mouth.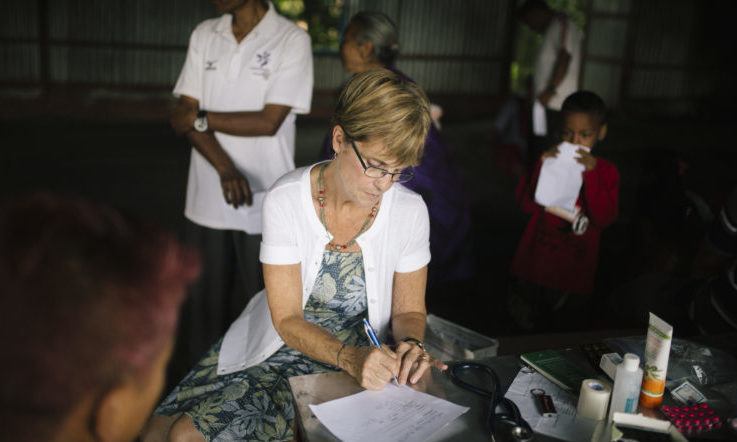 All day, every day throughout the entire outreach, the Holy Spirit's power worked through me, picking up diseases and health issues beyond my education or experience. TB? Yep. Thyroid? Uh-huh. Heart murmur? Yes. At the start I asked for Tim's input every step of the way. Until I realized that this unbelievable gift had been given to me on behalf of the Lord's beloved. So I ran with it, under Tim's expertise and supervision.
We have done clinics this way ever since, in every nation we have served. And the Holy Spirit has been faithful. On the last medical mission trip, our small team saw almost 900 patients. Now that's a God thing.
One exception came on a trip to Haiti. We had two local Nurse Practitioners helping Tim, so I returned to my nursing role. When all the patients had been triaged, I offered to "doctor" to move things along. In other words, for our convenience, not out of need. I still had my nursing abilities, but that flow of heavenly power didn't come because we didn't need it that day. He gives power and answers when they are needed. It leaves no doubt that this is of God, not self.
To those who doubt, who think the Holy Spirit's power is a nice, old-fashioned bedtime story, I would simply say, "I get it." To those who know me and are incredulous, I would certainly say, "I get it." But God's sovereign choices are his, and his penchant for choosing the most unlikely candidates to accomplish his will is legendary.
To be clear, this is all the result of prayer. I asked. God provided. But what about the healing angle? The medical team provides the best possible diagnosis, treatment, and wellness teaching in the circumstances. The medical advances God has provided help many with all kinds of illnesses.
But prayer-only healing? That's another post altogether. For now, just know that we have witnessed true supernatural healings outside the bounds of modern medicine. I'm talking Biblical, making-a-statement, heart-bursting miracles.  And we have engaged in spiritual warfare on an epic scale. Think Cecil B. DeMille.
There's an important take-away. On all occasions, the Holy Spirit provided faithful answers to prayer, whether for the team's ability to function on maximum capacity, for healing that would be impossible in a worldly sense, or to battle the enemy.  His faithfulness is the one constant we can count on, no matter what the nation, culture, religion, politics, or societal upheaval. He. Is. There.
The title of the Mercy Me song I referenced earlier says it all: "Won't You Be My Love?"  God's awesome power is manifested in His abiding love for us, his creation. When we talk to him, seek him, and open ourselves to his will, the Holy Spirit does his happy dance and shakes the foundations of illness and disbelief.
Pray on!
To learn more about where and how SEAPC serves, click here.
SEAPC is dedicated to changing lives through prayer. If your heart is moved and you would like to partner with us, you can donate here.