Our guest author today is Rochelle Agnew of Pittsburgh, PA. Rochelle is a musician and friend of SEAPC who has been working to develop music curriculum for teachers in the Banteay Meanchey Arise program. 
"Kingdom of Wonder." That's the tagline of Cambodia. From the moment your toes touch the tarmac it's a statement that effortlessly proves itself to be true. I fell hard and fast for this nation last summer. It took me completely by surprise, but that's often the nature of wonder itself. You don't see it coming, and then suddenly you're overtaken and overwhelmed by it. One little girl held my hand for two days, and I became singularly obsessed with the future of a nation. Fast forward three months, and I was sitting in the Oakmont offices of SEAPC. I walked in to try to learn the Khmer language. I walked out with the goal of bringing music education and an atmosphere of praise and worship into the public schools of Banteay Meanchey. It was a total divine setup. One little girl led to one meeting which led to one nation being changed forever.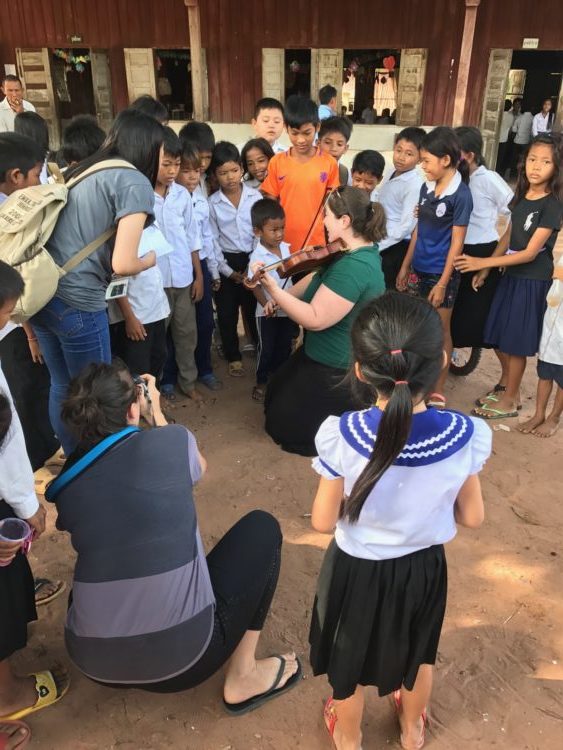 From October through July we dreamt of what bringing music and praise into the classrooms of Cambodia would look like. What does it sound like when a generation born into tragedy is educated in beauty and creativity and thereby the very heart of God? We knew that as we created and taught we were not just awakening new avenues of education, but new encounters with God for the heart of every child in Banteay Meanchey. As we crafted a music curriculum with Jesus at the center of every song, we leaned into the heart of the Father and his dreams for his children. The most practical goal of the program became the one with the biggest supernatural need. At the end of the day, we wanted the students to have fun with the curriculum, causing them to want to stay in school longer. Staying in school longer meant more education, more dreams, more opportunities, and an eventual breaking of the poverty cycle. What an impossibility. Teach a song and end poverty. Who but Jesus could make that happen? At the end of nine months of dreaming, I set out to return to Cambodia.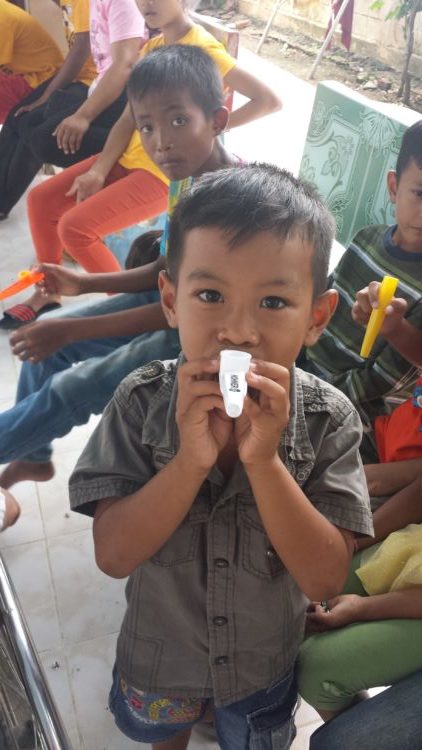 The first step was to discreetly test out the material with the children in the schools. We played a musical version of hot and cold by singing "God is So Good". It was a home run. I can't remember seeing such eagerness and engagement from any group of children before. It took all of five minutes to know this would work. The next step was training the national Khmer missionaries. We spent two days learning the curriculum. The Holy Spirit accelerated the process, and I witnessed firsthand what acceleration looks like when hearts and minds are hungry and Holy Spirit is running the show. We started from square one. None of them had ever seen western music notation before. By the end of two days we had tackled years' worth of musical content. It was a sign to make you wonder if ever there was one. I pulled out concepts I thought I'd teach two to three years from now. Then the biggest test of all came: the schools. The night before we left for the villages I told our team what I planned to teach the next two days. I'd leave this in, take that out, etc. Hubert Tutwiler asked if he could make a suggestion. I said yes, anticipating his sage advice from working in the mission field with this precious people. "Why don't you just do whatever Holy Spirit tells you to do?" The wonder of the kingdom came rushing in again. No amount of effort on my part could have culminated in the acceleration we'd experienced the last few days. I set my heart once again to see what the Father would do. We went to two school districts in two days. Once more, we taught years' worth of material to people who had never even seen it before. At the end of six days, I had no words to explain what the Lord had accomplished. The wonder of the Kingdom and all its power and possibility had just manifested in the kingdom of wonder.
It was a trip spent marveling at the immeasurable heart of the Father. As we plan for the next installment of the curriculum, we have our sights set on kingdom possibilities. To quote Hubert Tutwiler, "Our hearts are set on one thing: to bring glory to Jesus, and Jesus to the people." Twenty years from now, we don't know where we will be, but our hearts will still be fixed on his. We will see the beauty and creativity of our Jesus manifest in the hearts, minds, and lives of every child in Banteay Meanchey. It begins with a song, and ends with wonder. More, Lord.
To learn more about where and how SEAPC serves, click here.
SEAPC is dedicated to changing lives through prayer. If your heart is moved and you would like to partner with us, you can donate here.