What Does Love Look Like?
Many people of faith go on trips with high hopes to touch a nation, but sometimes that looks more like touching one single heart. In Nepal, instead of playing the guitar or preaching, love was displayed by taking a family portrait with 30 plus Indian women who had made the pilgrimage to the Pashupatinath Temple. It was also expressed while taking a photo with their guru, and then sneaking in some blessings for him while the camera clicked away. Love was exchanged while shaking countless hands and speaking the universal language of a smile or laughter.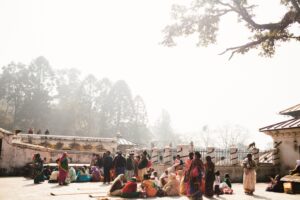 All that this love required was time and a flexible schedule. In China, love led us on an adventure to remote Tibetan villages getting as close to Tibet as we possibly could. Even if it was hard to swallow, love tasted like yak cheese cookies and warm yak milk butter tea. And on bumpy roads through countless hours love was experienced by time spent with some of the most incredible people on this planet.
Each night, without a consistent place to rest our heads, love produced flexibility and a fresh excitement about the journey. For a portion of that journey, while descending 16,000 feet, we all experienced a close call with death. In return, that particular night's pillow was met with immense gratitude. Love was found amidst danger, and it was expressed with hearts of worship and tangible peace. Love looks different than what we expect sometimes.
This trip was a good reminder that every interaction counts. After eating breakfast one morning, a Tibetan woman came to our table to explore the lighter coloring of one of our teammates. She curiously moved up this lady's sleeve and touched her arm without an ounce of hesitation. Without thinking twice, our sweet teammate pulled out her lotion and began to rub it on the Tibetan woman's hands.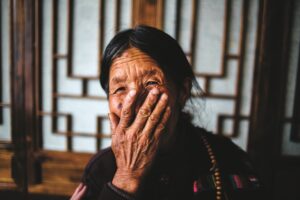 It was reminiscent of Mary Magdalene pouring the oil over Jesus. This was an act of worship, and it deeply touched the woman's heart. Before we left, this woman was crying as she visibly experienced love firsthand. The Father encountered her through a bottle of lotion, a quick blessing translated by her son, a monk, and the power of both touch and smiles.
In the end, hugs were exchanged along with powerful gifts. Someone on our team handed her The Jesus Film in her language and in response she gave us some homemade bread. How fitting that the bread of life was exchanged for a few rolls of handmade bread, and then we parted ways.
It is valuable to extend a hand or smile, and it is equally valuable to exchange monetary provision for a good cup of chai shared with new friends. Love isn't compact and, much like the beautiful Tibetan woman's tears will seep out in many different ways when it is allowed to flow freely. This trip was truly a testament to the power of loving people free from agenda, planting seeds and believing for the Father to show up in unconventional ways.