To Be a Risk-Taker for God
Early in the morning on November 27, 1989, I was reading Matthew 6 in the New Testament and focusing on "do not worry about tomorrow because He cares for us." My wife Ngun Te called me when I was thinking deeply about the scriptures saying, "Honey, look at this." When I looked at her, she showed me a 45 kyat note. She said to me with surprise yet with a big smile, "This is the last note we have, let us give thanks and pray." It shocked me and I was so troubled. All the money we brought with us had run out and there was nothing left except the 45 kyat note in our hands.Her smile was a strong tonic for me in that miserable situation. Then, I advised her to buy any food that could be bought with the money. She purchased two kilograms of rice and sent our two daughters to Daw Tha Tang, who lived downstairs at our rented house, with two kilograms of rice to feed them. This was during a time when we had no one to help us financially inside or outside of the country, as we were and are living totally based on faith in God.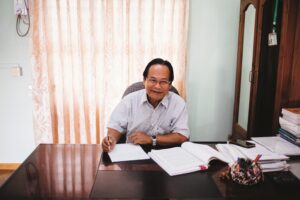 On that same day, I received a letter from my father who lived in Tamu — 700 miles from Yangon — s
aying that we must return to him. My logical thinking compelled me to quit the ministry and go back home.
In fact, I nearly quit. In that moment, the words of Dr. Titus — "A great man ever failed but never quit" — came to me and inspired me to take another risk. So, my wife and I had no choice but to look to the Lord in prayer and fasting. On the fifth day of our fasting and prayer, a strange old woman named Daw Khin Mya Hmi, whom we never knew, unexpectedly came into the compound of our rented house and asked us, "Is this Pastor James Lian Sai's residence?"
"Yes! Of course, it is," we replied promptly. When she was sure that the place was mine she told the reason why she came to us. She hastened to tell her reason without sitting. She said, "Last night someone came to me and gave me this package. But when I asked the Lord 'should I handle the money or to whom shall I give the package?' Instantly the Lord told me to give it to Pastor James Lian Sai. I asked God, 'who is James and where does he live?' Yet God didn't tell me so. When I made inquiry, Rev. Paul John of Immanuel Baptist Church advised me to check this name with Chin Guest House on Barr Street. From there I got your address. So I came here and met you on their advice." As she was talking she took the package and gave it to me and left in a hurry. When we opened the package it was 40,000 kyat. Oh, praise God! How happy I was. I felt like I was walking on air. It was God's mighty hands that moved in times of trouble, through risk-takers.
That 40,000 kyat was converted into an acre of new land for Acts Bible College where thousands of young committed people have been trained. Hundreds are studying God's word and live together as one family under the love of God. Praise, glory, honor, power and almighty is He. Hallelujah!
From the time we started missions work in 1989, our vision was to reach five million unreached people before the end of 2005. In order to fulfill our vision, gospel tract distribution was one of the best strategies for reaching the lost souls for the Kingdom of Jesus Christ. But on the other hand, gospel tract distribution is illegal in Myanmar. According to the existing law, one can be put in jail for 15 years for this offense. Because of this, many Christian organizations and churches do not practice this strategy.
In November 2004, we distributed 800,000 gospel tracts in Yangon city alone. On every tract, students put our contact number in order that the recipients may know how to contact our school. Because of this, we received many phone calls from recipients who wanted to know more about Jesus. But three days later, I also received a phone call from the highest military office in Yangon, stating that I was summoned to appear at his office. In fact, I must confess that I was very afraid to go to see him, because I was worried that I would be sentenced to prison for 15 years.
The next day I went with Rev. Siang Luai and Captain Jai Gaung (retired) to the high military office and stood outside of the office for a while. Unexpectedly, a man with a full colonel military uniform— known by the spotted stars on his shoulders — said to me, "Are you not Brother James Lian Sai?" Surprised, I answered, "Yes, I am James." He continued, "Do you recognize me?" I said, "No, sir!"
Then he made himself known to me saying, "I am Maung Aye whom you loved and were a good friend of during our high school days at No. 1 State High School in Taungdwingye." He asked me where I lived, what I was doing, and why I went to that office. So I told him the story, including where I lived, what I was doing and the reason why I was appearing at that office. I felt that he was sent to me by God like an angel to deliver me from terrible danger. Maung Aye said, "Do not worry, the man in highest authority is a good friend of mine and I will stand by you." Because of this colonel in the military who was a good friend of mine 35 years ago, I was released without any harm. Praise God! He was and is good at all times. The greatest news is that more than 800,000 souls have had the privilege of hearing the gospel of Christ in their lives.
Friends, difficulties may well come, but the results can be different than expected. It depends on one's perspective. Results envisioned from taking a risk may turn out to be something better than we dreamed.
If not you, who? If not now, when? Now is the time for you and me to make a strong, solid decision to be a risk-taker for God.