More to Love
I had a list of names, but I really didn't know what to expect. I had only shared a couple of emails with Susan, who is in charge of the home. I knew that we were heading into a reputable place. It has been in Kathmandu, Nepal, for 48 years. Mark and Ellie had known the founder, Elizabeth "Mommy" Mendies, since meeting over 30 years ago. But, I still didn't know what to expect.
Several friendly dogs met us as we drove through the gate. We
arrived at a clean, well taken care of home painted blue and white. There are two buildings on the left with a study area and library under the boys' rooms and the kitchen and dining area under the girls' rooms. Directors, Charles and Susan Mendies, live in the boys' building. Another staff member lives in the girls' building. There are locations where the children garden. In the center of the property is an area for sitting. Further away and down some steps is a play area. On the right is a tent still standing from after the earthquake last year, which contains prepared emergency supplies in case of another earthquake. A third building houses some other staff and serves as a location for disaster relief supplies that they give out to communities.
At first, the children just said "hi." We hadn't "officially" been introduced yet, although they already knew Bill Richardson who was with us. After meeting with Charles and Susan to get to know them better and to learn more about the ministry, Susan gave us a tour. As we would meet children, she would introduce us. Many of them were doing chores or studying. Naturally, it didn't take much for the ice to be broken and for children to start chatting with us. They especially loved Caryn and Courtney, who were there to take photos and write peoples' stories. Who doesn't love tall, pretty, young blondes, especially when they have great loving hearts?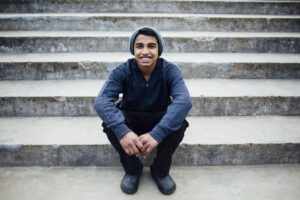 I took time over the next couple of days to speak with each child to learn more about them. From cute little Binda, the youngest at the home; her quiet but smiley brother, Dinesh; Subaraj, who is outgoing and funny; shy Jumuna; Paras who likes to be honorable but doesn't always think before he acts; to Sabitri, who is the oldest at the home and is known to be very hardworking and responsible, and all of the others, I found a group of 29 kids and teens who are a close-knit, very happy family.
The children know that I was there to prepare to find sponsors for them. They are so excited about it. They want to develop one-on-one relationships with someone who is going to pray for them. They also want to see the financial help come to the home to provide for their needs. They love this home and know the financial struggles that have been happening. They are available for sponsorship now. Pray with them and us for sponsors, or consider sponsoring one of them yourself. I guarantee that both you and the child will be greatly blessed.