It Begins With Fire
"So why Cambodia, at your age?" my friend asked me. He was not being rude – just truthful. After all, I am grey around the muzzle. I'm not sure he understood my answer even though he nodded his head as I explained my reasons to him, and he shook my hand and wished me well. I shared with him how I wanted to retire early while I still felt like doing something significant and that I did not want to pass up such a unique opportunity. What I did not share was the deeper reason. He would not understand the fire burning in my soul.
Have you ever felt that you were created to be a part of something larger than yourself? Yet as you lived life you almost went into full-time ministry, you almost went into the mission field, and you almost grabbed onto that purpose for which you were created. Have you ever felt that you were finally presented with the opportunity to step into and grab a hold of the reason you are alive? Well, that is what I felt when Mark Geppert walked into my shop where I taught electrical technology in Western PA.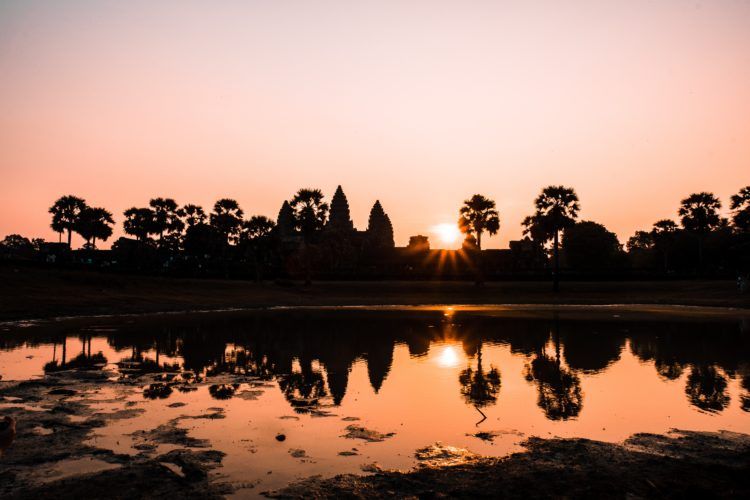 For years my wife and I thought our opportunities had passed us by, or that we somehow disqualified ourselves or just missed out. So when Mark came to my school and said he was looking to put together a team of vocational teachers to help in Cambodia, it was like a spark of hope beginning to glow inside me. When I called my wife ZoeAnna she was excited also. She did ask me one question, however: "Where's Cambodia?"
Sadly, the administration of my school at that time did not want to be involved with this initiative. So we began checking into the possibility of going on our own and we kept in contact with Mark. ZoeAnna and I were thinking we might be to go the next summer. Then we encountered a more serious roadblock.
For some time I had been very fatigued and could not put my finger on a reason.  Then, while I was at a robotics competition, I had a heart attack. I ended up in a hospital with a stent in one of my arteries. By God's mercy, we caught it early and there was no damage to the heart. But the medications they put me on had the side effect of a spiraling slide down into deep depression. It took only three months for me to get to the place spoken about in Ezekiel 37, the valley of dry bones.
I became a pile of dry bones so dry the dogs would not chew on them anymore. While I was at the bottom of the pit, I cried out "Father, I'm at the end of my rope, please throw me a line." I looked at my laptop thinking there may be something encouraging on YouTube. There was the usual assortment of "funny cats" and "got talent" videos but right at the top of the list was a sermon called "The War in Your Mind" by someone I had never heard of.
I chose it because it was short enough for me to watch before I had to be at the church for a building project. As I listened to the sermon and the testimonies of the miraculous, God breathed into me just like He breathed into those dry bones. His breath stirred up a hope that I had not felt in a long time, and I fell to my knees and let the tears flow as Jesus released me from the heavy grip of despair. I got up and went to the work night at the church. Afterward, I came home and played every sermon I could find by Bill Johnson and every one linked to him. I started my journey out of the pit. With each sermon and each testimony, a fire began to burn.  We began to sense that we were called—no, created—to do the works that Jesus did. We began to passionately pursue His Kingdom.
One pivotal moment was on the way home from a trip to Tennessee. ZoeAnna was reading Heidi Baker's book "Birthing the Miraculous" aloud. The Holy Spirit was speaking to us with each page. At one point we had to pull over because I could not see to safely drive through the tears. We sat there at the side of the road and cried out "Yes, Lord. Yes, Lord. Use us, send us, go with us. Where you go we will go, what you say we will say, what you do we will do. Take what remains of our lives. We pour it out for you."  
This "yes" birthed from fire is the beginning of our journey to Cambodia.