Influencing Influencers
In Cambodia, there are three tiers of sub-national administration –– the capital city/province, district/municipality/khan, and sangkat/commune. Each province is further divided into municipalities and districts, which are then subdivided into communes and sangkats. Ms. Dane Chamroeun is the sole female superintendent of education in her province –– a huge accomplishment. When we learned about Dane, we were excited to sit down with her and hear her remarkable story.
Dane started out her career as an elementary school teacher. She loves children and enjoyed teaching for two years. While teaching, Dane befriended the former superintendent of her district whom eventually appointed her. Initially, she thought that she was "too young and didn't have enough experience." A mother of two, Dane also felt hesitant to take on this new role. Through her family's encouragement, however, she decided to accept the challenge.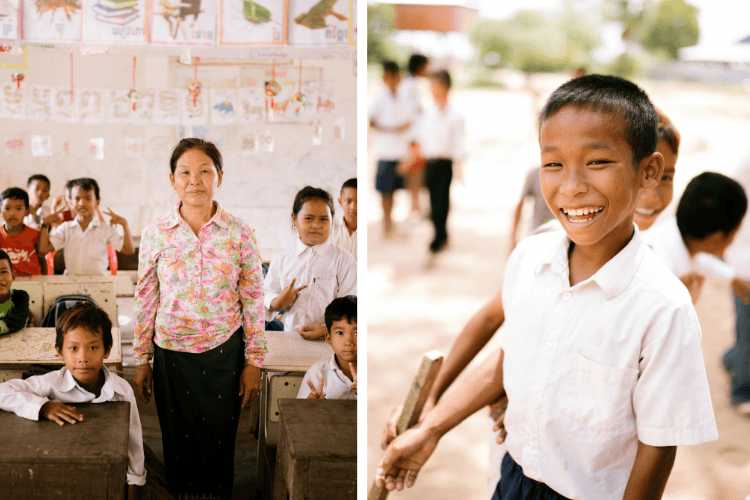 As the superintendent, Dane is responsible for 49 public schools and a total of 735 teachers. This means that a large part of her job involves travel. Dane frequently meets with the principals to get a pulse on how each school is doing. At first, her transition from teacher to superintendent was challenging. Thankfully, Dane happily shared how, "my family knows that this job is difficult and they help me accomplish my workload." Now that she is more accustomed to her role, she enjoys almost every aspect of her job, especially working with the elementary teachers –– something that is close to her heart.
Sitting upright in her light blue blouse, Dane exudes confidence. It is her dream that this school district would become a cluster school –– similar to Banteay Meanchey's Rongko cluster schools. She also desires for more teachers to learn English, because it is her ultimate wish every child in her district to learn English.  When asked what it is like be the only female superintendent out of the nine superintendents in her province, she gushed how all of the men treat her with respect and look out for her. It is evident that Dane is proud of herself for holding this position and feels supported by her male colleagues –– a surprising, yet beautiful, revelation from our time spent together.
Before parting ways, Dane expressed her thanks to the national missionaries, along with Jenni Taylor, for the Water Drop program. She is really excited about this program, because of the opportunity it presents for more kids to learn English. With a smile, she shared how "the teachers that attended the Water Drop seminar [in February 2018] told me that Jenni is a good teacher with a lot of talent." Dane requests that SEAPC continues to work, even if the teacher's don't attend English class. This upcoming school year, she will call all of the principals together to discuss the possibility of all teachers joining the program, a curriculum based on Judeo-Christian values.
We celebrate Dane and her heart for the children and future of Cambodia. It is apparent that the favor of God is on her life and it is exciting to imagine the future of education in Banteay Meanchey with her influence. We are thankful to work under her leadership.