Falling Leaves
For I know the plans I have for you, declares the Lord, plans to prosper you and not to harm you, to give you a future and a hope. ~ Jeremiah 29:11
It's autumn, and in Pennsylvania the leaves have been glorious—reds, oranges, yellows. This year, the color came late. There were some who reveled in the continued green of lingering summer, others who bemoaned the delayed arrival of fall foliage. Eventually, seemingly overnight, the landscape went from green, to multicolored, to bare branches outlined against the gray sky.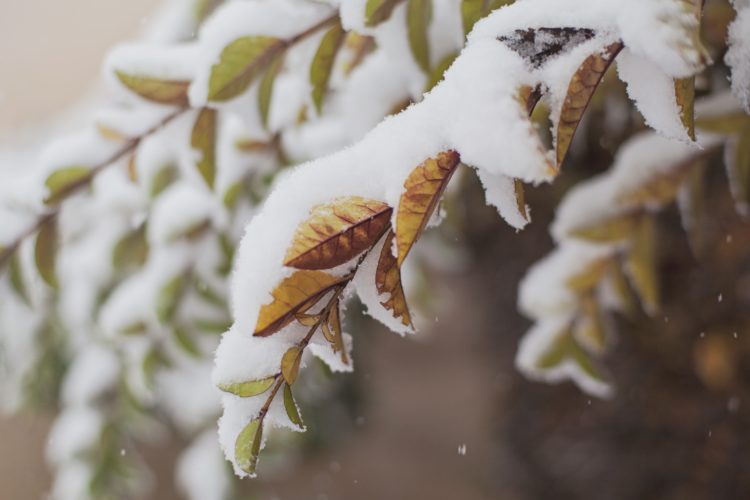 Officially, it is still autumn, all evidence to the contrary. Conversations now focus on winter: will there be frigid temperatures, blizzards, unending darkness? Because the autumn leaves, for most people, represent loss. The frolicking of summer and the vibrancy of fall are over. Songs have been sung, poems have been written, and tales have been told, all full of long winter's angst.
Is this what God intended when He created the seasons? When He created us? Is there another way to reframe those changing leaves that is more Scriptural? Perhaps, just perhaps, the leaves aren't forced to fall due to circumstance. Perhaps they let go.
We have been given ample evidence that there is no need to fear anything—not even falling—because God is in control. Consider Psalm 37:23-24. The steps of a man are established by the Lord when he delights in his way; though he fall, he shall not be cast headlong for the Lord upholds his hand. Even if we do fall, God has us.
But how much more of a blessing is it to make the decision to put ourselves in His hands? Psalm 20:7, rich with image: Some trust in chariots and some in horses, but we trust in the name of the Lord our God. The Bible is filled with testimonies of those who took this to heart. They didn't fall; they let go and trusted in God, and in doing so changed the course of redemptive history.
The pages of Scripture are not the only place to discover people who have let go of their lives and put themselves in the hands of the Almighty. South East Asia Prayer Center is blessed to partner with such folks in nations around the world and at home. And while no one is perfect, we can rest in perfect peace when our faith is placed in the Lord. Some examples:
Hubert Chan, evangelist and pastor in the Mekong Region. He left a prosperous family and inheritance, and literally walked into the jungle to follow Jesus.
Sinai Phouek, pastor and administrator. He escaped the persecution of the Killing Fields to find and follow Jesus, remaining in Cambodia to do so.
Hector Zetino, evangelist and pastor in Guatemala. He walked away from gang life and embraced the Lord.
"Gloria," evangelist and autism specialist in China. She gave up worldly opportunities to carry the gospel and to educate the young.
"Vincent," pastor in Kashmir. He exchanged a successful business to minister and further care for the blind through the Church of Jesus Christ.
Chung Nung, pastor and administrator in Myanmar. He eschewed a prosperous business to walk alongside his wife and father-in-law, Pastor James, in caring for orphans.
Mark Geppert, pastor and missionary. He and his wife, Ellie, chose to listen when God called them to missions, founding South East Asia Prayer Center.
This list is not comprehensive, but rather a very limited glimpse of the faithful all over the world who have chosen to put their trust in the Lord. They had lives, security, plans—all of the things which make it difficult to take on hardship and uncertainty. And yet, they let go of their old lives and grabbed onto the Vine in John 15:4. I am the vine, you are the branches. Whoever abides in me and I in him, he it is that bears much fruit, for apart from me you can do nothing.
Not everyone totally abandons one life for another. We are not all called to do so. But we are all called to faith, trust, and total submission to Jesus. Yes, He gave us free will. We have a choice. Some cling to the almost-bare branches of their lives, waiting until circumstances force them to lay everything at God's feet. It is at that point—the moment of total surrender—that our souls soar into the sky and dance on the wind in a colorful celebration.
Will you choose to fall? Or will you choose to let go, in the sure and certain knowledge that the One who holds the universe also holds you in His capable hands?
Behold, God is my helper; the Lord is the upholder of my life.

Psalm 54:4