Expecting the Promise
Butterflies filled the air in the ancient ruins of Angkor Wat, and bullets filled the air along the road leading to it. It was the spring of 1994. Cambodia was a nation in the grips of a civil war in which 50 percent of its population had been brutally killed by Pol Pot. Government forces were driving him and his Khmer Rouge army toward an eventual demise on the Thai border. In July 1997, he finally died and with him the terror. But, in the spring of 1994, a prayer team from a church in Singapore made its way along the Trail of Tears. Along this route, another 25 percent of the population ran for safety with all they could carry to UN refugee camps across the Thai border. While traveling the land, I was surrounded by the faces of traumatized children and elderly. Terror had taken a tremendous toll as one generation languished in despair, another filled Killing Fields, and the third sunk deeper into the abyss of human tragedy.
Then it came to my mind, "From the Killing Fields and the minefields I will, in My Resurrection Power, raise up a generation who are Christ-centered, Bible-based, Spirit-filled, and academically excellent and they will be a witness to me in their village, their province, their nation, and around the world."
"Lord," I said shaking my head. "Only You could ever do that. This is the greatest tragedy I have ever seen. What am I to do?"
"Walk and pray, believe in me, speak the vision, and I will bring it to pass."
And with these words, we began what has been 24 years of a journey beyond imagination.
Jesus gives us a promise, calls us to a process, joins to us His people, and produces His product. Veha is the leader of Banteay Meanchey Arise. He was born in 1994 in a village in the Rong Ko Cluster Commune. When he was 14 his high school principal, Hou Bun Heng, was approached by another village leader, Pastor Sinai Phouek, about meeting a friend from America who had a promise for Banteay Meanchey. Bun Heng, a Killing Fields survivor, asked the new friend to help him establish a high school for these young people. After the war, he had returned to his villages and had worked feverously to raise up a primary school and middle school.
The American shared a promise about Resurrection Power and Jesus. Bun Heng had never heard such a thing, but if it would make a school for his kids, then he was for it. And so, a partnership was made which was called Cambodia Christian School Network. Hundreds of people from Singapore, Taiwan, Malaysia, Thailand, Australia, Switzerland, Germany, and the United States began to relate around a vision for education opportunities from pre-school through high school, and finally Veha had a place to complete his high school education.
Bun Heng's back was miraculously healed and the teachers, seeing the Power, decided they wanted some and soon the faculty was all baptized as Christian believers. The students and families followed their witness and soon all were believing in the promise that Jesus was raising up a generation that would be Christ-centered, Bible-based, Spirit-filled, and academically excellent. The school graduated its first class and Veha won an SEAPC scholarship to go to university in the capital city of Phnom Penh. He was the first in his family to do so. As he finished his junior year he heard that the provincial government had invited the American to do at a provincial level what had been done in the village schools and Veha made the heartfelt commitment to work in that project. Now, Veha has been elected by his peers to be the leader of Banteay Meanchey Arise and has spent the last four months installing electricity and computer hardware in a central school in each of the nine public school districts of Banteay Meanchey province.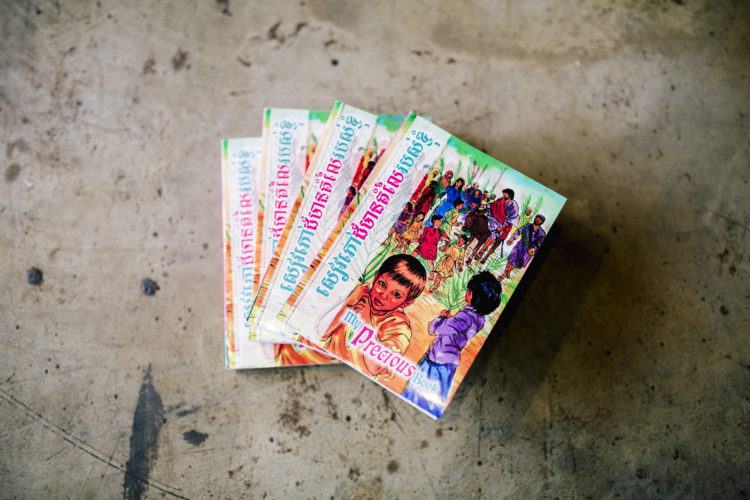 Last year Veha led in the distribution of 40,000 copies of My Precious Book, an English-Khmer Bible storybook for children. Each child receiving a book heard a team member's testimony of what Jesus had done for them and thousands of children prayed to dedicate their lives to Jesus. Teams came from all over the world to serve in English camps at public school campuses. The English training and the books were so well received that the Ministry of Education mandated that every fourth- through sixth-grade teacher must become fluent in English over the next three years.
To serve this vision, the Lord has sent Jenni Taylor to teach a Bible-based English as a second language course to teachers at the nine school centers and a team of 500 elementary teachers who will be led by Veha and his team. With the pastoral support and guidance of Hubert Tutwiler and the door-opening faith of Bun Heng and Pastor Sinai, this friendship has multiplied to 2,500 elementary teachers and approximately 45,000 students in fourth, fifth, and sixth grades.
Through these years the scripture in Hebrews 6:12 has come to mind: "Be not slothful, but followers of them who through faith and patience do inherit the promises of God." The nations are our inheritance, we will not stop until they are reached or Jesus returns and He will not return before the gospel of the kingdom has been preached in all the earth as a witness.
Yes, we have a promise. Yes, we are in the process. Yes, it takes a lot of people. Yes, we will see the product. Please pray that we stay the course through the full harvest. Please pray for the team and especially Veha and Jenni. Veha's stated vision is to learn through Banteay Meanchey Arise and use what he has learned to reach all of Cambodia. These young people are involved in their generation. The hollow eyes of terrified children have been replaced with hope and vision for a new Cambodia. Each time Veha visits a school he sees himself and shares with the students how Jesus has met his need and raised him up. Their faith increases with every word.
The first Water Drop training for teachers took place this past weekend to great success. Please check back in the coming weeks to read some first-hand accounts from the team as these trainings progress.
To learn more about where and how SEAPC serves, click here.
SEAPC is dedicated to changing lives through prayer. If your heart is moved and you would like to partner with us, you can donate here.