Breakthrough
For several years we have been praying for a large influx of sponsors so that every, or almost every, child within the children's homes would be sponsored. Now, we know this is a temporary situation because there are always new children arriving, but when you are looking at a list of over 100 kids needing to be sponsored, you feel desperate to get them the prayer and financial support that they need. God had been answering our prayers in that we continue to receive more and more sponsors, but at the end of January, we were still looking at 106 kids (the majority of whom live in Myanmar) who needed sponsors.
One morning, I was working on some things in my office and the phone rang. A couple of moments later, the person who answered the call buzzed me and said that there was a man on the phone who had just talked with Mark Geppert the day before and Mark had told him to contact me. Now, this is the point where I "tattle" on myself. These type of phone calls sometimes make me nervous. I don't usually know the details of what Mark has said to the people in question and, sometimes, I don't have the information they need. Then I feel bad because I have to explain that I need to get the information and get back to them. I was sincerely cringing as I picked up the phone, afraid that it was going to be one of those situations. God had a great lesson of faith in store for me that day.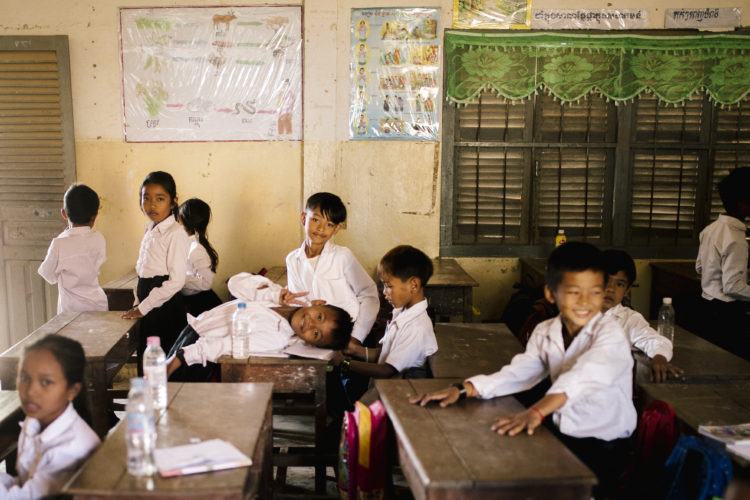 I had a wonderful conversation with the gentleman on the phone and definitely knew information for him because it was about Raising Kids. He asked me how many kids needed sponsors and I gave him an estimate of 106 but mentioned that I had a couple of potential sponsorships in the works. He understood. We ended the conversation with the goal of me getting the exact number because he and his wife were potentially interested in sponsoring all of the remaining unsponsored children.
I was so full of joy at that moment! The potential answer to a long-time prayer was in sight. I excitedly shared the news with the ladies in the office, as all of the guys were out of the country. I also attempted to keep myself within control just in case it didn't work out. As I said earlier, we had 106 children needing to be sponsored and I was waiting to hear back from a couple of people to determine the status of a few of them. Responses were positive. A couple of people picked up new children to replace those who had left, a new sponsor came from California, another new sponsor came in from London, and still another new sponsor here in Pennsylvania picked up two kids. This left 100 kids in need of sponsors.
Before I could give this gentleman and his wife the exact number of children remaining, he emailed back and said that they would definitely sponsor 100 kids, plus give additionally each month to help wherever needed to help children. Breakthrough! All currently active children were sponsored! For a brief moment, I thought I might not have quite enough children for them, but I did. As we started February, we had all children sponsored and some funds to provide for a need somewhere. The month's additional funds from this new sponsor were sent to Cambodia to bring much-needed renovations and repairs to the kitchen, railings, and façade of the children's home in Sihanoukville, one of the original four homes of NHO.
We have a great God who answers prayer. The celebration of this great breakthrough has been going on for the past couple of weeks in our offices and around the world. Now, it's back to prayer for more sponsors, as I have already received data for new kids who have arrived. We know these kids will be sponsored also, and it is just a matter of timing. If you are waiting for an answer to prayer today and feel like you have been waiting for a long time, don't give up. God answers all prayers of those who love Him and pray according to His will. Thank you for praying for us, the kids, and those who care for them.
To learn more about becoming a SEAPC Raising Kids child sponsor, please click here.
SEAPC is dedicated to changing lives through prayer. If your heart is moved and you would like to partner with us, you can donate here.