Accountants for Jesus
My first trip to Cambodia occurred last May when I joined a team from my church on a short-term trip. I immediately fell in love with the people and Cambodia holds a special place in my heart. I had a feeling that I would return, but I was unsure how I could serve or how the Lord could use me. I don't have the typical ministry gifts that one might associate with missions. I am not active in children's ministries and I do not have a medical background. I'm an accountant.
After my high school graduation, I went to Bible college with the intent of being in full-time ministry. When my Bible college days ended, no opportunities for ministry were presented and I needed to earn a living. I began a job in accounting and have been in the field for over 20 years.  I love accounting and I am good at my work, but I have always thought that my career kept me from ministry.
Last November, I received an invitation to visit missionary friends of mine in Thailand. Since I was headed to Southeast Asia anyway, I decided to email SEAPC to see if there was anything I could do in Cambodia. Unknown to me at the time, the SEAPC Cambodia staff had lost the person who was doing the accounting. The new person who had stepped into the role needed some training to feel fully comfortable with the position. On a Tuesday morning, the SEAPC staff prayed that God would send them someone who could go and teach accounting. They received my email inquiry that evening!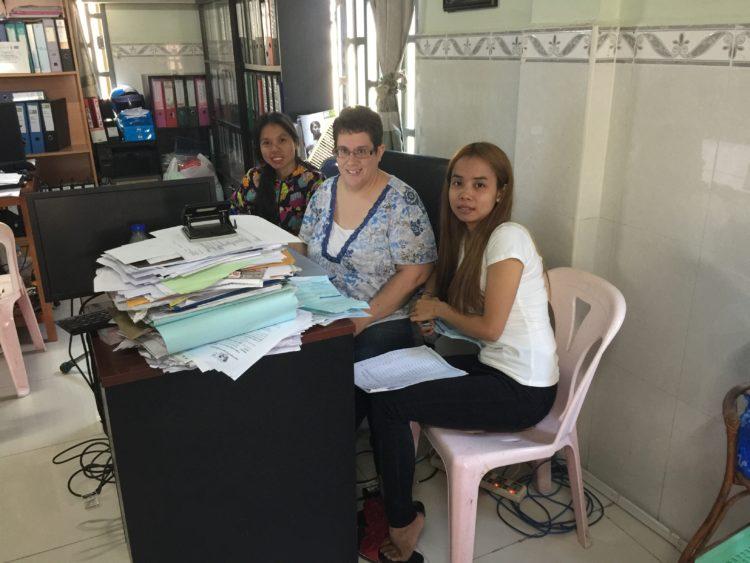 So, in January, I went to Phnom Penh and spent a week training the staff in accounting. Each morning, the staff and I had devotional time before beginning the days work. By the end of the week, the Lord had accomplished so much through our time together. Not only did the staff get the training they needed on how to do the accounting work, they also were encouraged as to why their work was important. By keeping impeccable financial records, SEAPC maintains a high level of financial integrity, thus increasing the ability to obtain more sponsors and donors for the children of Cambodia. Additionally, better accounting enables SEAPC to be wise stewards of the funds they receive. The Cambodian staff was encouraged to learn that even though their time isn't spent directly with the children, their work is actually helping the children in the NHO children's homes.
In just a short week, I made lasting relationships with my newfound friends. We made several amazing memories. We prayer walked in various places. On Sunday afternoon, my last day in Phnom Penh, my new friends and I were able to purchase food and soap and distribute them to families living in extreme poverty. It's an afternoon I will never forget.
These doors for ministry were opened because I am an accountant. All of these years what I thought was keeping me from ministry was actually paving the way for ministry.
In the book of Exodus, God commands Moses to build a tabernacle. Moses was not able to do it alone and God gave him a team of workers. In Exodus 31:3, God speaks of one of the workers and says "I have filled him with the Spirit of God, with wisdom, with understanding, with knowledge and with all kinds of skills." God had given each of Moses's workers a vocational skill and He used each one to build His tabernacle.
Today, God has asked His Church to build His Kingdom here on earth. He has given us all different skills. Sometimes, our gifts or skills may not appear to be "spiritual," but as I shared with my Cambodian friends, when you belong to Christ, no part of you is "secular."
He is able to use anyone – even an accountant.
To learn more about where and how SEAPC serves, click here.
SEAPC is dedicated to changing lives through prayer. If your heart is moved and you would like to partner with us, you can donate here.