Abundance
Imagine living in the middle of a civil war zone; unable to find a job to feed your five children. No schools are available for the kids because they were all closed. Or imagine being the widowed mother of seven children in a poor village with no school nearby and difficulty in finding enough funds to survive.
These are the situations in which two families found themselves in Myanmar in 2015.
At a time when things looked their worst, God brought these families in touch with Charity Children's Home in Yangon. Out of love for their daughters, both families sent them away to live at the home so that they would have the chance for a future by receiving nourishment, healthcare, and education. They didn't care that the home was Christian and that they were Buddhist. They just wanted better futures for their daughters.
So, in May 2015, both girls—Khin and Kyane—arrived at the home. Naturally, it was difficult at first to go from living with their families to living with approximately 250 others on a huge campus. Having food, clothes, education, and the opportunity to play that they may not have had before helped, but what helped the most was the joy that they found because they saw Jesus' love.
Fast forward almost four years. These two girls have adjusted very well. They are healthy, happy, and very smart. Both of them do very well in school. Khin is now 16 years old, and Kyane is 14. They can play and experience things that they would never have before. They have been able to find things that they enjoy doing, like badminton for Kyane and reading for Khin. They have dreams for their futures: Khin to be a pastor and Kyane to be a teacher.
Recently, both girls participated in a public essay contest focusing on environmental conservation, especially concerning waterways, sponsored by the Yangon Water Bus Company. Out of the 197 boys and girls who entered the contest, Khin won first place, and Kyane won third. It was a great honor. Between the two of them, they won 800,000 Kyat (526 USD). Each received a trophy as well.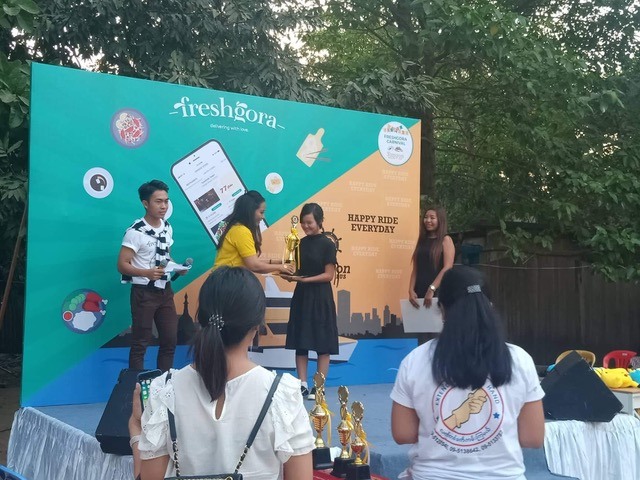 The even sweeter part is that when asked what they wanted to do with the money, both girls said that they wanted to share their joy with all of the other kids at Charity Children's Home by purchasing a special meal for all of them called biryani.
Biryani is an Indian meal made of colorful rice and chicken. I've heard that it is oily and has a strong, delicious taste. The staff was very proud of them, for not only winning the competition but thinking of their brothers and sisters in Jesus at the home. While the staff honored the girls' wishes to use the prize money celebrate with all of the other children, they also set aside a certain sum of money for the girls to do with as they pleased to celebrate their achievement.
Two girls who were just barely surviving a few years ago are so blessed right now that when they win a large amount of money, their first thought is of others. Their lives have been truly changed through prayer.