A View from the Front Lines
Greetings from the Tutwilers in Serai Sisophon, Banteay Meanchey province, Cambodia.
First, let's start with a little background on Banteay Meanchey province. During the Cambodian Civil Wars of the 1970s and 1980s, Banteay Meanchey province was on the front lines of much of the fighting, and as a result it is one of the three most heavily mined provinces in Cambodia. With an economy based on agriculture, and few jobs available, poverty rules in this province. The graduation rate is lower than 10 percent, while the high school dropout rate is over 25 percent, with most students dropping out to illegally go to Thailand to work as unskilled laborers. The Lord can turn this around! In Isaiah 61:1-3, the Lord promises beauty from the ashes.
What is Banteay Meanchey Arise (BC Arise)? Let's be perfectly clear on what it is not: it is not another program in the tourist areas or big cities, and it is not a social or welfare program. Rather, it is a get-down-in-t
he-trenches, grass roots partnership between the Cambodian government, the Ministry of Education, and you, the sponsors, the faithful promoters of the Kingdom of God, with SEAPC facilitating the project. BC Arise is a multi-faceted, province-wide approach to bring the Kingdom of God to Banteay Meanchey, with all facets and phases going full blast at the same time. BC Arise is hard work, and it is spiritually and financially intense!
What will BC Arise do? It will bring better education, it will bring better graduation rates, it will bring jobs and business startups; it will bring water, light, truth, and prayer; it will bring the Word of God, and it will bring real and lasting change through Judeo-Christian principles. It will help to alleviate poverty and thus affect the human and sex trafficking industries that are so prevalent in this province. It will bring salvation and souls. It will bring hope, and it will change lives, but most of all it will bring Jesus and all He stands for into the heart of a broken and hurting Buddhist people. Are you on board, yet? This is a not a quick stab in the wind, but a long-term game changer for the Kingdom of God.
For Phase 1, we are trusting in God to provide the funding to build nine technology and skill training
centers. Teaching in these centers will cover computer technology, English, and job and entrepreneur skills such as hotel management, small business development, and food preparation and processing. Out of the nine sites picked, we have two buildings with the land prepared; the foundations have been set and poured in Preash Netpreash and Phnom Srok districts. We are building the technology and skills centers at the high school district level in the villages, where the people live, in order to give them easy access to the training.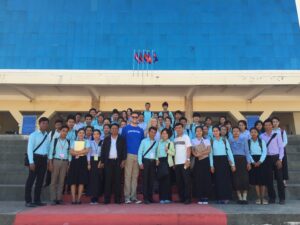 Phase 2 is teacher training at the high school level at each of the nine districts. For this phase, we have had the privilege of hosting Troy and Lauren Kurz and Rick and Suzanne Wells. The Kurzes gave a crash course in health and emergency medical training to over 450 high school teachers in the nine high school distric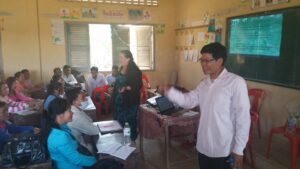 ts and 200 Meanchey University students. During their time here, Professors Rick and Suzanne Wells taught educational learning and teaching techniques at the same districts. Both the Kurzes and the Wellses prayed with and over the teachers and the districts.
Phase 3 is equipping Meanchey University in Banteay Meanchey province. Cecilia Po and Faith Toomey are long-term missionaries teaching both classes and workshops including resume building, English, plant biotechnology, microbiology, applied linguistics, and medical standards at the University, along with prayer and Bible studies, while befriending and establishing relationships with the college staff and students. Phase 4 includes holding baseball and soccer camps and tournaments, to encourage the Cambodian young people to get interested in sports and ultimately stay in school! Justin McGurgan and Morgan Vensel will put on a baseball camp and a soccer camp respectively. While hosting the camps, they will share their faith and pray over the students, while endeavoring to help the Cambodian school districts to create their own soccer leagues and baseball teams.
Phase 5 is comprised of guest speakers, workshops, and prayer walking, which has led to guests such as Terry Flynn, Nathan Tsai, and George Ebenezer, just to name a few. We had the privilege of hosting Nathan Tsai of the Tsai family, who has for years helped to organize, promote, and fund education projects in the developing world, touching the lives of thousands of children. George Ebenezer is a precious brother and a former orphan who grew up on the streets of India, whom the Lord has raised up to be a powerful Christian evangelist and motivational speaker. When he spoke at the university, even the president of the university was deeply touched and was fighting back the tears.
In summary, the Lord has given us unprecedented favor with the Cambodian government, and they have thrown the door wide open and basically challenged you, the body of Christ, and said, "Show us what your God can do with His Judeo-Christian principles." How will you respond to the Cambodian government's challenge to the body of Christ?
We need you! We can't do this by ourselves. Is your area of expertise in food processing, fresh water development, or rural and agriculture development? If you can't join us for a year, come help us for two or three weeks. If you're not the "going" type, that's okay, because the Kingdom needs people gifted in every area, along with the gifts of giving and intercessory prayer. Sign on and partner with us just by giving and praying. Help us make the most of this time of the Lord's favor in Cambodia, or come and we will help to find a place for you to minister. Make your money and prayers count! Join us!
~ Hubert Tutwiler